KAZAN (Sputnik) — Syrian UNESCO World Heritage sites damaged by war require thorough examinations and, above all, the reinforcement of the most fragile facilities prior to restoration work, UNESCO Director General Irina Bokova said Tuesday.
"We have already conducted such an assessment, we have had several missions to Aleppo, [which is] our office. The UNESCO Office in Beirut is working very actively. We are working with other partners, of course, with the Syrian Heritage Institute in Damascus. I think, first of all, we must conduct a very, very careful assessment of what happened there. Not rush to restore, or rush to pour concrete or build something," Bokova told reporters.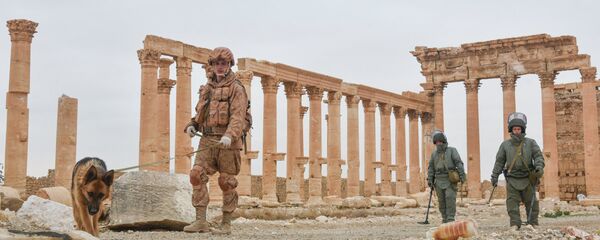 The UNESCO head recalled that last year, a large conference was held in Berlin with the participation of Russian, German, American, Polish, French archaeologists and restoration artists with knowledge of the Syrian sites.
"It is necessary to finish this stage of the assessment and then move on to see what to restore, what to just reinforce. I think, from the initial information I received, that it is necessary to firstly reinforce what is very fragile now, because much of it may otherwise collapse," she explained.
Russian specialists have been involved in mine clearing operations across crisis-torn Syria for months. Sappers from Russia have been demining the ancient Syrian cities of Palmyra and Aleppo among other settlements after their liberation from terrorist groups, such as Daesh, which is outlawed in Russia among other countries.