MOSCOW (Sputnik) — On August 14, The New York Times published an article citing expert analysis and classified assessments by US intelligence agencies, that North Korea's successful intercontinental ballistic missile (ICBM) launches may be due to possible illicit purchases of missile engines from Ukraine's state-owned aerospace manufacturer Yuzhmash. A number of Ukrainian officials, in particular Prime Minister Volodymyr Groysman, have already denied the reports.
"As Ukraine's foreign minister and a trained aerophysicist, I want to say that my country could not have been involved in aiding North Korea's missile program… But I am doubtful that North Korea could achieve what it has done without outside help. The global community must now come together to conduct an international inquiry to find out who was responsible," Klimkin said in the article published on Monday.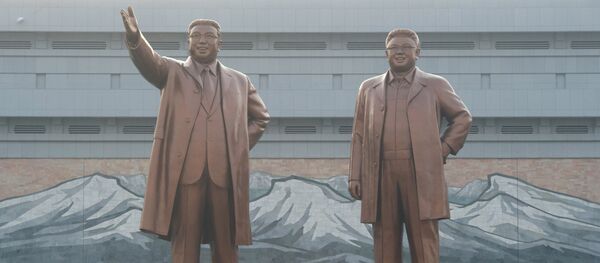 18 August 2017, 21:03 GMT
The Ukrainian official said that the country's production lines for the aforementioned missile engines had been decommissioned 25 years ago, adding that Kiev had taken steps to prevent a malefactor from getting access to the remaining technologies.
On Thursday, Ukrainian President Petro Poroshenko signed a decree to create a task force that would check the information reported by the US media outlet about the possible transfer of missile technologies from Ukraine to North Korea.