MOSCOW (Sputnik) — US divers based in Singapore are searching for 10 sailors who have been missing since a US destroyer collided with a merchant ship in the Straits of Malaca, the US Navy's 7th Fleet said in a press release Tuesday.
"U.S. Navy and Marine Corps divers began searching for 10 Sailors from USS John S. McCain (DDG 56), missing since the guided-missile destroyer and merchant vessel Alnic MC collided early on Aug. 21," the fleet said.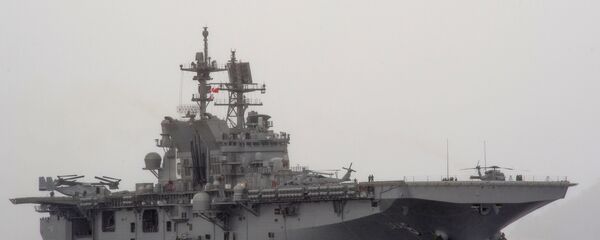 21 August 2017, 12:50 GMT
The divers intend to access sealed compartments in the damaged parts of the destroyer, the fleet noted, adding that the team plans to assess the damage of the hull and flooded areas. Two Navy maritime helicopters are carrying out search and rescue operations with assistance from ships and aircraft from Malaysia and Singapore.
"Those search efforts are focused on an area east of the Straits of Malacca and Singapore where the collision occurred as McCain was transiting to Singapore for a routine port visit," the fleet said.