KUBINKA (Moscow Region) (Sputnik) – Russian Aerospace Forces Commander Col. Gen. Viktor Bondarev said Wednesday he was satisfied with the ongoing tests of Russia's Su-57 fifth-generation fighter.
"In terms of timing, we are on schedule, and more aircraft are joining the tests. [The extra aircraft] speed up all preliminary flight tests, so I think that all previously announced time frames for the first deliveries of jets to aviation units of the Russian Aerospace Forces will be sustained, and we will get the planned number of aircraft," Bondarev told reporters.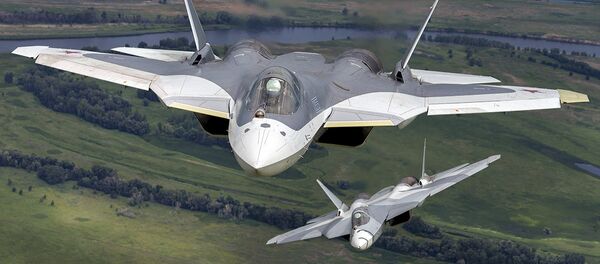 14 August 2017, 14:44 GMT
On August 11, Bondarev said the Russian Aerospace Forces would start receiving Su-57 jets in 2018.
Bondarev added that official tests would show the quality of the defense industry's work on the Su-57.
Russia's Su-57 fifth-generation fighter jets, formerly known as Prospective Airborne Complex of Frontline Aviation (PAK FA), or Sukhoi T-50, is a single-seat, twin-engine multirole stealth fighter designed for air superiority and attack roles. It is equipped with an advanced avionics system and airborne active phased array radar. The jet made its maiden flight in 2010.