In a speech on Monday, US President Donald Trump laid out his strategic vision for the US war in Afghanistan.
He was widely expected to announce a troop surge but instead offered a number of vague details that include authorizing more power to "target the terrorist and criminal networks that sow violence and chaos throughout Afghanistan."
Speaking to Sputnik Afghanistan, Afghan military expert Jawed Kohistani gave his thoughts on Trump's speech.
"Trump's message means that the war in Afghanistan will intensify and that the hostilities will continue. The Taliban will strengthen their position in Pakistan and the countries that support them," Kohistani said.
Touching upon possible secret operations in Afghanistan in connection with Washington's new strategy, he said that this topic has repeatedly been discussed and that "there is no force in Afghanistan that could oppose these operations."
"Announcing its new Afghan strategy, America is entering a new stage in the fight against war and violence in Afghanistan. The past few years have seen many international conferences and meetings on Afghanistan but they failed to meet expectations. The goal of Trump's new strategy is to put an end to the war in Afghanistan," Kohistani added.
Russian expert Alexander Razumov, for his part, told Sputnik that Trump's new strategy in Afghanistan is aimed at preserving and strengthening the American presence in this country.
"They [the US] will increase their contingent and strengthen their presence in Afghanistan in connection with a new policy towards Iran, Pakistan, India and China. They will use Afghanistan as its base," Razumov said.
He added that Trump had not said anything new on the matter and that "this is the policy that the United States has pursued for many decades."
During his speech on Monday, Trump said that it would be "possible" to eventually negotiate a political settlement with the Taliban, even though previous administrations had said that the US would never negotiate with terrorists.
Trump noted the importance of cooperating with the governments of Pakistan, Afghanistan and India in order to bring stability to the region.
He wants New Delhi to assist with diplomatic and economic measures against terrorist forces in the region, particularly by pressuring Islamabad to decrease cooperation with terror groups.
Trump called his vision "principled realism" and called on Kabul to produce more economic support for US efforts, in addition to reforming its government.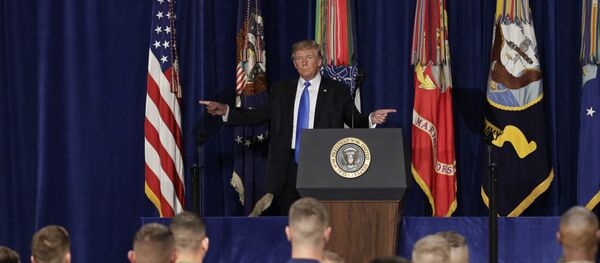 24 August 2017, 04:00 GMT
Afghanistan is experiencing political, social and security instability, with extremists taking advantage of the turmoil in the country.
The United States and its allies launched a military operation in Afghanistan in 2001, just after the 9/11 terror attacks. The mission in Afghanistan ended in 2014.
On January 1, 2015, NATO announced its new mission in the country, called Resolute Support, to train and assist the Afghan security forces. Despite Washington's efforts, the Asian state is still being hit by multiple attacks against its civilians and military targets.