On Monday, the US Navy suspended operations worldwide after the USS John S. McCain collided with the Alnic MC near the Malacca straits. At least five sailors were injured in the collision.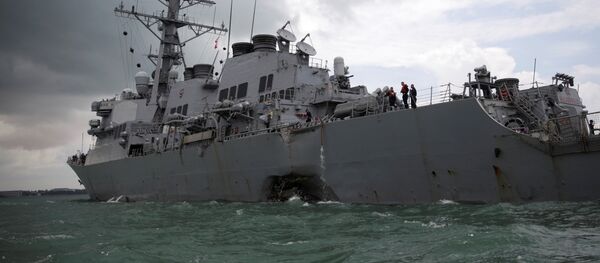 23 August 2017, 07:42 GMT
Speaking to Sputnik, Russian political analyst Alexander Safonov said that it is only natural that both the United States and its allies are very much alarmed about the incident.
"I think that the cause of the collision is the general 'mess' which is currently happening in the 7th Fleet, given that it is not the first such episode which caused human casualties," Safonov said.
"Why did this incident cause wide public outcry? Because the main question asked by the US allies, including South Korea and Japan is what will happen, if God forbid, the 7th Fleet, where such a 'mess' is in place, will somehow fuel the Korea crisis," he added.
Safonov recalled that "it is the USS John McCain and other ships of the 7th Fleet that have been sent on a mission to contain North Korea."
He specifically pointed to the tense situation around the Korean Peninsula, which he said adds to the hot discussion related to the USS John S. McCain incident.
"I think that now the US Navy leadership will take relevant steps in order to calm its allies. It is necessary to guarantee the utmost coherence, clarity and exclusion of any fatal surprises which, as we see, can theoretically take place," Safonov concluded.
The US guided-missile destroyer John S. McCain crashed into the Alnic MC tanker while underway east of Singapore at 5:24 a.m. local time on Monday.
On Tuesday, US Pacific Fleet commander Adm. Scott Swift said at a briefing that the remains of US sailors had been found in the flooded compartments of the John S. McCain destroyer.
"The divers were able to locate some remains in those sealed compartments during the search today. Additionally, the Malaysian Navy has reported that they have located potential remains," Adm. Scott Swift said.
The USS John McCain is an Arleigh-Burke class destroyer belonging to the US Navy's 7th Fleet and is home ported at the US Navy base in Yokosuka, Japan.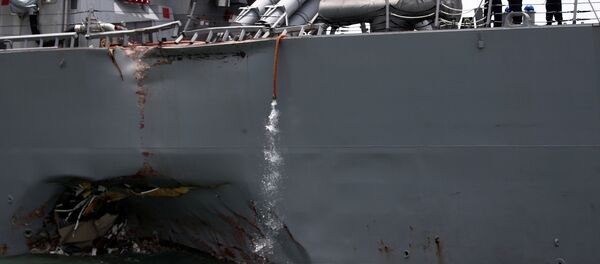 22 August 2017, 11:29 GMT
The Alnic MC is described as a Liberian-flagged, 30,000 ton, 183-meter oil and chemical tanker by the Marine Traffic website. It appears to have been on its way to Singapore from the port of Pyeongtaek in South Korea.
The Monday collision is the second by a US ship with a civilian vessel in the 7th Fleet area of operations this summer.
Seven Navy personnel were killed in the Fitzgerald collision, and the ship's commander was relieved of duty last week.