New Delhi (Sputnik) — While we humans have access to alternatives to steer clear of the harmful consequences of water pollution, animals are easier victims. A pack of bright blue furred canines in India, spotted at the outskirts of Mumbai, had become no less than a sensation on the internet a few weeks ago. However, what has been revealed about how they acquired the blue color is indeed sad.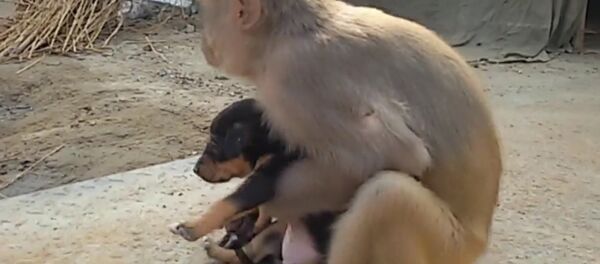 27 January 2017, 07:00 GMT
A probe instituted by the Maharashtra Pollution Control Board (MPCB) has confirmed that a chemical dye dumped into a rivulet by a manufacturing factory was responsible for the stray dogs acquiring the bright blue hue. Packs of dogs are often found swimming in and drinking from the rivulet. According to the Thane Society for the Prevention of Cruelty to Animals (SPCA), one of the rescued blue dogs has turned blind due to the chemical dye. The rest are undergoing treatment.
The factory has been shut down but animal rights activists and environmentalists say that shutting down factories in the heavily industrialized area of the Kasadi River would not solve the larger problem. They argue that such forced closures would result in loss of jobs but would not serve the purpose of ensuring that animals are not harmed by hazardous industrial waste.
​
​India is home to some 30 million dogs, of which many are strays. But the animals are protected under law and in May this year, the country passed sweeping regulations enacting new animal protection policies to provide necessities like food and shelter and curtail indiscriminate breeding.