MOSCOW (Sputnik) – Iran strongly condemns  the recent terrorist attack on a Shiite mosque in the Afghan capital of Kabul that killed over 30 people and left dozens of injured, Foreign Ministry Spokesman Bahram Qassemi said.
"Fueling sectarian rifts and disrupting the unity of the patient Afghan nation are undoubtedly among the objectives pursued by the terrorists who commit such crimes… It is necessary that the Afghan government and people disappoint them (terrorists) and their supporters like always through rapport and vigilance," Qassemi said as quoted by Tasnim news agency.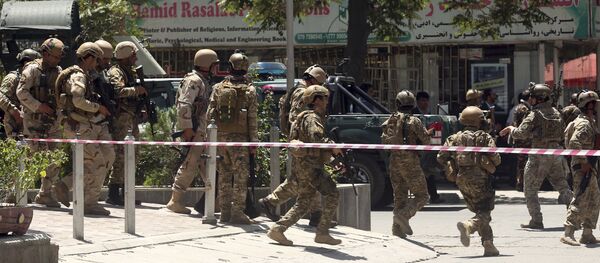 25 August 2017, 10:35 GMT
On Friday, a group of attackers entered the Imam Zaman mosque in Kabul where at least 200 worshipers were praying, killing two security guards and injuring two others. The attackers carried out a suicide bombing and started to shoot at worshipers.
The Daesh terrorist group, outlawed in Russia, took responsibility for the attack.