MOSCOW (Sputnik) — Kosachev noted that despite the escalated tensions around North Korea, the United States decided not to postpone its Ulchi — Freedom Guardian joint military exercise with South Korea which would help normalize the situation, as Pyonguang had protested against the drills calling them "a dangerous military provocation."
"If this is not done, than someone needs it, as they say. Maybe even more than the real progress in the peaceful resolution of this difficult international issue," Kosachev pointed out.
The parliamentarian also called Pyongyang's recent missile launches a "rather bad sign" adding that North Korea can put itself in the situation when it would be difficult to help Pyongyang even for those who are not its direct opponents.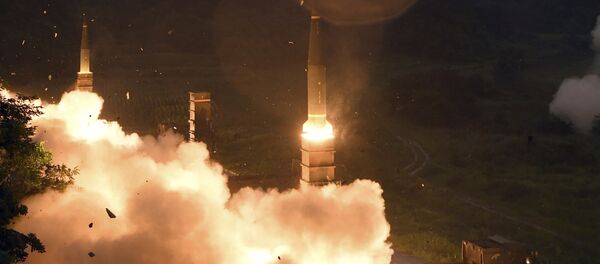 22 August 2017, 09:11 GMT
Tensions on the Korean Peninsula have recently flared up following the adoption of the United Nations Security Council sanctions in early August in response to Pyongyang's July missile launches. The move led to North Korea trading threats and warnings with the United States. Most notably, Pyongyang said it might consider an attack on the area near the US territory of Guam in the Western Pacific.
In June, China initiated a road map for the settlement of North Korean crisis, the so-called double freeze plan, which provides for the simultaneous cessation of North Korea's nuclear activity and the US-South Korean military exercises. The initiative has been supported by Russia but rejected by the United States. North Korea has yet to issue a response to the proposal.
Earlier on Saturday, North Korea test fired short-rage ballistic missiles off the eastern coast. The US Pacific Command said it had detected three launches, two of which failed in flight, while a third one appeared to have blown up almost immediately.