A regularly-scheduled series of large-scale military exercises, called Zapad-2017, has gotten the focused attention of NATO brass, who have suggested that similar drills by the west set to coincide with Moscow's established September exercises could create a dangerous situation involving possible military miscalculations, according to military.com.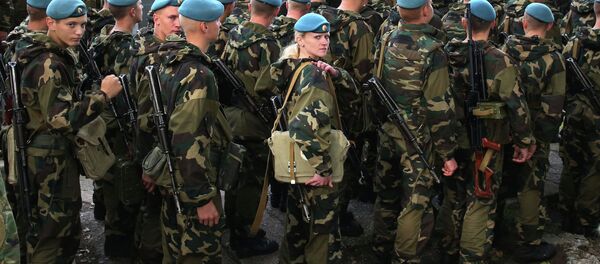 26 August 2017, 12:11 GMT
"It will be getting crowded, especially in the Baltic Sea area," according to the Polish European Leadership Network security analyst Lukasz Kulesa.
"We will be watching each others' exercises," Kulesa said, adding, "so there's always a risk of an incident or accident."
Taking place primarily in Belarus, the most recent Zapad exercise took place in 2013, according to sources.
Although recent claims by NATO officials put Moscow's Zapad-2017 soldier count at an eye-opening 100,000, the Kremlin has announced that only an estimated 13,000 will participate in mid-September's maneuvers.
But NATO intelligence asserts that Russia will be hosting a massive military presence in the Baltic, and the bloc has scheduled its own Rapid Trident exercises in September to coincide with those of the Kremlin, according to military.com.
The September US Army exercises will take place primarily in western Ukraine, and an estimated 10 nations will participate, while, in the Baltics, other NATO brigades will conduct concurrent exercises and surveil Russian military movements.
Scandinavia will also see a heightened US and NATO military presence in September as an estimated 20,000 troops will travel to Sweden, along with a US Patriot mobile missile battery and a unit of National Guard tanks.
NATO's move to implement widespread military drills throughout its bailiwick has resulted in increasing calls for calm in the region.
"It is a big change from 2009, 2010," acknowledged former Estonian President Toomas Ilves regarding the enhanced NATO presence, adding that previously, "NATO allies were pressuring not to have any contingency plans for the Baltics, let alone any troop presence."
The Kremlin has consistently pointed out that the long-planned Russian Army drills occur regularly and are part of the Russian military's ordinary training and preparedness programs.
In discussing the potential for Russian aggression during the 2017-Zapad exercises, Frants Klintsevich, the first deputy chairman of Russia's upper house Committee on Defense and Security, offered that Europe, the US and NATO have "nothing to worry about," cited by Sputniknews.com.
"I can only recommend [NATO] leadership avoid any provocations during the exercise," Klintsevich added.