Over 800 Daesh terrorists, 13 tanks, 39 pickup trucks equipped with large-caliber machine guns and 9 mortars and artillery guns have been destroyed, the Russian Defense Ministry said.
"On August 27, 2017, the [Syrian] government forces' units have annihilated Daesh's most battle-tested and well-armed group with massive support of the Russian Aerospace Forces in the Euphrates River valley near the city of Tell Ghanem al-Ali."

"Currently, a grouping of Syrian government troops is rapidly carrying out an offensive along the eastern shore of the Euphrates River, moving toward Deir ez-Zor. The goal is to unblock this city and destroy the last stronghold of Daesh in Syria," the Defense Ministry said.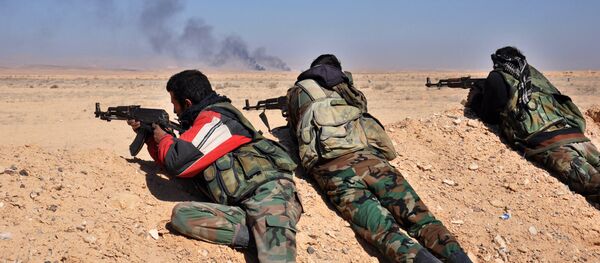 22 August 2017, 07:20 GMT
The Syrian army and self-defense units supported by the Russian Aerospace Forces have significantly
advanced
toward Deir ez-Zor from 
three directions
, the Russian General Staff said earlier this week.
The lifting of siege of Deir ez-Zor will lead to the complete defeat of the most combat-effective formations of Daesh terrorist group in Syria, the chief of the Russian General Staff's Main Operational Directorate said on Friday.
Deir ez-Zor, located on the shores of the Euphrates River to the northeast of Damascus, and a military airfield near the city have been besieged by Daesh for over three years, with food and ammunition only being delivered by air.