UNITED NATIONS (Sputnik) — A joint convoy of the United Nations, Red Cross and the Syrian Arab Red Crescent has delivered much needed aid to tens of thousands of people in Homs and a besieged Damascus neighborhood, Office of the Spokesman of the UN Secretary-General said on Monday.
"Yesterday, a joint convoy, comprising the UN, the Red Cross and the Syrian Arab Red Crescent (SARC), delivered aid for more than 107,000 people in the hard-to-reach city of Ar Rastan in Homs," the office stated. "On 26 August, a joint UN- SARC convoy delivered urgently-needed aid to 20,000 people in the besieged neighbo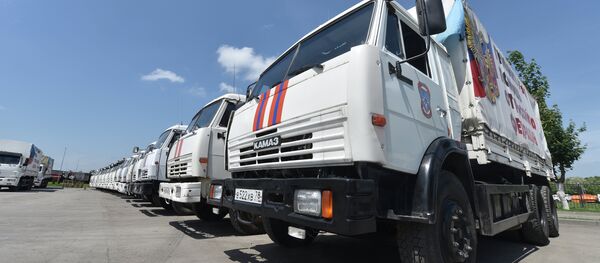 24 August 2017, 02:02 GMT
Around 10,000 people have been displaced from the city in the first half of August, according to the United Nations.