KUWAIT CITY (Sputnik) — Russia does not want to compete with other states in order to take the lead helping to negotiate the settlement of the diplomatic row surrounding Qatar, and fully supports Kuwait's efforts to solve the dispute, Russian Foreign Minister Sergei Lavrov said Monday.
"We support Kuwait's initiative. We do not want to compete with anyone. We definitely have good relations with all the countries involved in this rather difficult situation, and we have acted based on the belief that Kuwait's initiative deserves the support of everyone who could have a positive impact on the situation," Lavrov told reporters.
The Russian minister noted that Moscow was ready to provide support in a format that would be considered appropriate by all the sides in the diplomatic dispute.
Russia and Kuwait have similar positions on the Syrian, Libyan, Yemeni crises, and the diplomatic crisis ongoing around Qatar,  Lavrov said Monday.
"We have very similar positions on international affairs, I would even say concurring positions on fundamental issues, persisting in this region. This also applies to Syria, Libya, and Yemen, the situation around Qatar, where our Kuwaiti partners are seeking to establish active mediation," Lavrov told reporters after holding talks in Kuwait.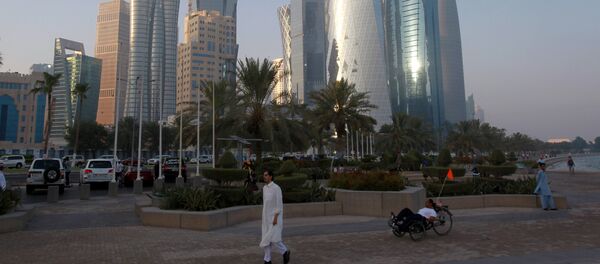 24 August 2017, 12:17 GMT
As for trade, the minister said that the turnover between Russia and Kuwait has increased by 14 percent in 2016, and 43 percent during the first six months of 2017 alone. This rates of growth suggest that a turnover of over $500 million will be achieved soon, according to Lavrov.
He also commented on contacts between the parliaments of the two countries.
"Inter-parliamentary contacts are being established on a regular basis. The head of the National Assembly of Kuwait will participate in October's session of the Inter-Parliamentary Union to be held in Russia," Lavrov said.
On Sunday, Lavrov started a three-day working visit to Kuwait, the United Arab Emirates (UAE) and Qatar, during which the sides are expected to discuss bilateral relations and regional conflicts, including Qatar's diplomatic rift with several Arab states.
In early June, Bahrain, Egypt, Saudi Arabia and the United Arab Emirates announced that they were breaking off diplomatic relations with Qatar, accusing Doha of supporting terrorism and destabilizing the situation in the Middle East. Kuwait, acting as a mediator in the crisis, handed over the 13 demands of the four Arab states, which Doha has refused to comply with
Moscow has repeatedly called for a dialogue between the parties to the Qatar row and said Russia is ready to act as mediator if neccessary.