WASHINGTON (Sputnik) — The US Marshals Service raided a stem cell clinic in California to seize vials of a potentially dangerous smallpox vaccine being used to treat cancer patients, the Food and Drug Administration (FDA) said in a press release on Monday.
"On behalf of the FDA… the US Marshals Service seized five vials of Vaccinia Virus Vaccine (Live) — a vaccine that is reserved only for people at high risk for smallpox, such as some members of the military," the release said.
The clinic, run by California-based company, StemImmune Inc., was treating cancer patients with a vaccine that was "unproven" and "potentially dangerous," the release added.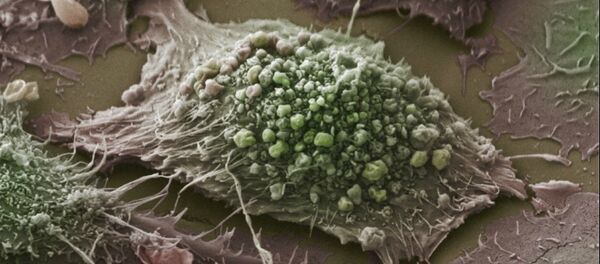 19 August 2016, 23:43 GMT
StemImmune specialists have been injecting the vaccine directly into patients' tumors, the FDA noted. This treatment can cause several skin reactions, affect heart surrounding tissues, and even lead to life-threatening conditions.
Federal authorities are currently examining how the company could get the vaccine which is not widely distributed, the release noted. Moreover, FDA Commissioner Scott Gottlieb ordered the agency to establish a new working group responsible for oversight of unscrupulous medical facilities through legally enforceable tools.
In addition, the regulatory agency on Monday issued a warning letter to US Stem Cell Clinic of Sunrise, Florida, and its Chief Scientific Officer Kristin Comella for selling stem cell products without FDA approval.
According to the World Health Organization (WHO) smallpox is an infectious disease that can be easily transmitted from person to person. Despite the virus that causes smallpox is believed to be eradicated, an emergency vaccine has been created and available when needed.