BRUSSELS (Sputnik) – The European Parliament needs to approve any deal reached between the European Commission and the United Kingdom on the latter's withdrawal from the bloc, the EU Parliament said on Tuesday.
"The European Parliament will need to approve any agreement regarding the UK's withdrawal from the EU," the European Parliament said via Twitter.
​The parliament pointed out that the interests of EU citizens must come first during the Brexit negotiations that should be conducted in good faith and full transparency.
"There can be no trade-off between security and the future economic relationship," the European Parliament added.
The EU legislative body noted the importance of preserving peace in Northern Ireland and the need to avoid a hard border with the Republic of Ireland.
"The UK must honor all obligations it has committed to, including those related to the budget," the European Parliament stressed.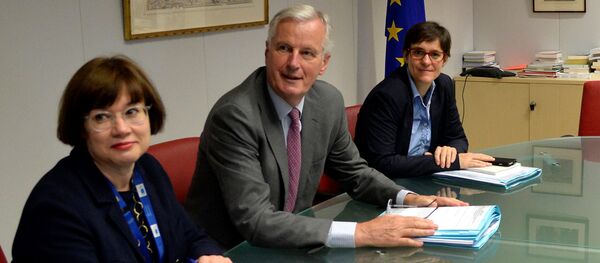 29 August 2017, 15:42 GMT
According to the body, the outlines of the future EU-UK relationship can be discussed only after the progress in the talks on how the United Kingdom will leave the bloc.
"No cherry-picking: membership of the single market is only possible with free movement of goods, capital, services and people," the European Parliament noted.
The European Parliament added that there could be no separate negotiations with individual EU countries or non-EU states.
On Monday, the third round Brexit talks kicked off in Brussels. The United Kingdom is represented by Brexit Secretary David Davis while the European Union — by EU chief Brexit negotiator Michel Barnier. This round of talks will last until August 31.