BRUSSELS (Sputnik) — European Commission President Jean-Claude Juncker said that Turkey is rapidly moving away from the European Union, and Turkish President Recep Tayyip Erdogan is fully responsible for this.
"Turkey is moving away from Europe by leaps and bounds. I suspect that Erdogan, who I have always had friendly relations with and whom I maintain a good relationship with, expects Europe to make statements about the termination of negotiations [about Turkey's membership in the bloc] in order to show that the EU is responsible for this, but not Turkey. The Turkish side bears full responsibility for this," Juncker said.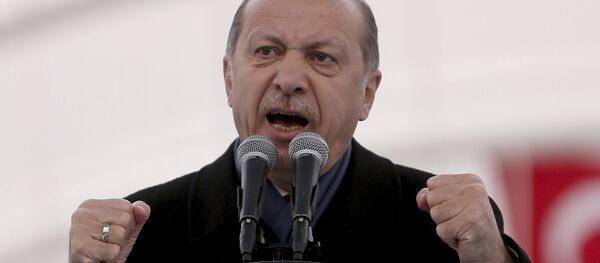 20 August 2017, 12:46 GMT
According to Juncker, the European Union should behave in a manner which demonstrates to Turkey that "it is [Ankara], and Erdogan's system, which made it impossible for Turkey to enter the European Union."
Relations between Brussels and Ankara became strained after Turkey's crackdown on opposition journalists, as well as public servants and judges, in the wake of the July 2016 coup attempt which prompted EU disapproval in the form of its suspension of accession talks.
Turkey signed an association agreement with the then-European Community in 1963 and submitted a membership application in 1987.