TOKYO (Sputnik) — The type of missile launched by Pyongyang on Tuesday has the potential to fly as far as the US territory of Guam in the Western Pacific, Japanese Defense Minister Itsunori Onodera said.
"The flight range of the missile amounted to 5,000 kilometers [3,107 miles.] Obviously, a missile of that type could reach Guam," Onodera said, as quoted by the Kyodo news agency.
The defense minister confirmed that all the parts of the missile fell 1,180 kilometers (733 miles) from the Japan's northern island of Hokkaido. According to earlier reports, the missile separated into three parts.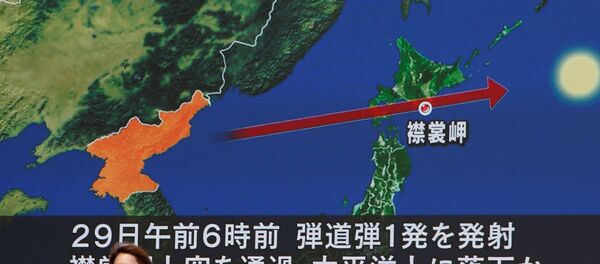 29 August 2017, 05:45 GMT
Earlier in the day, North Korea launched a missile which flew over Japan before falling into the Pacific Ocean 1,180 kilometers east of Hokkaido. The launch was conducted at 5.57 a.m. local time (21:27 GMT on Monday). The Japanese military said the projectile was likely a Hwasong-12 ballistic missile.
Tensions on the Korean Peninsula have recently escalated, particularly between the United States and North Korea, following the UN Security Council's adoption of new sanctions against Pyongyang on August 5. Washington and Pyongyang exchanged heated warnings, with US President Donald Trump promising to meet any North Korean threat with "fire and fury" and North Korea saying it was considering a strike near Guam.