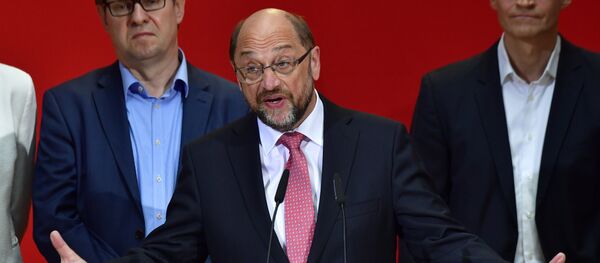 The nuclear issue becomes one of the main topics ahead of the election in the German Bundestag, which potentially could have a serious impact on the results of the race, Gavrilova believes.
Martin Schulz, the leader of the German Social Democratic Party (SPD) and candidate for the post of German chancellor, has vowed to ask Washington to withdraw US nuclear weapons from German territory if he defeats Chancellor Angela Merkel in federal elections next month.
The politician uses any means in his attempt to gain the upper hand over German Chancellor Angela Merkel in the upcoming election, Gavrilova wrote for Sputnik.
"For sure, those Germans who do not want to put up with a nuclear storehouse in their homeland and get involved in the next adventures of their transatlantic partner might be attracted by the promises of Martin Schulz, who is building his campaign on anti-American rhetoric," the analyst noted.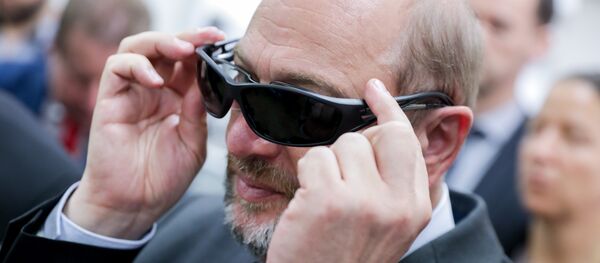 Earlier, Schulz stated that Angela Merkel and her ruling CDU party are "out of touch" with reality. The politician seeks confrontation with the current German Chancellor four weeks ahead of the Bundestag election in Germany, what can be seen in his recent interview with the ARD broadcaster.
Schulz believes he could still win the race by appealing to those who have not yet decided on their preferences.
"I want to reach those undecided people," Schulz said. "And if I can do that, then I can win the parliamentary elections," he said.
According to the latest survey conducted by Deutschlandtrend for ARD, 38 percent of Germans support Merkel's CDU/CSU party, followed by the SPD at 22 percent. However, Gavrilova believes that the results of the election can't be predicted in advance.
"Who knows what Schulz is going to take up during the upcoming debate. In Europe, not everything is fine: there are a lot of painful topics that can be raised," she concluded.
On September 24, German citizens will head to the polls to elect their new government. Following the election, the Bundestag will elect a new chancellor, with Angela Merkel and Martin Schulz being the main candidates for the post.