The event is expected to occur within six days, Rowe said. There are no means to prevent the incident due to the level of flooding that has already submerged much of the plant as a result of Hurricane Harvey, the executive said. 
Exterior of the Arkema chemical plant in Crosby, Texas.
Organic peroxides are made at Arkema's Crosby plant, the company's website says. "All organic peroxides will burn vigorously, and once ignited will be difficult to extinguish," according to a University of Nebraska safety manual on organic peroxides.
​"Some organic peroxides will decompose very rapidly or explosively when exposed to heat, friction, mechanical shock, or contamination with incompatible materials… Extinguishing organic peroxide-fed fires is extremely difficult since the chemical provides the necessary oxygen to support combustion." 
"The primary challenge has been maintaining refrigeration for these products," which must be stored at low temperatures, the company said in a August 29 news release. Refrigeration units were cut off from electrical supply from Harvey's floods and the backup power generators were also kicked off the grid by water levels reaching approximately six feet (1.83 m) in height.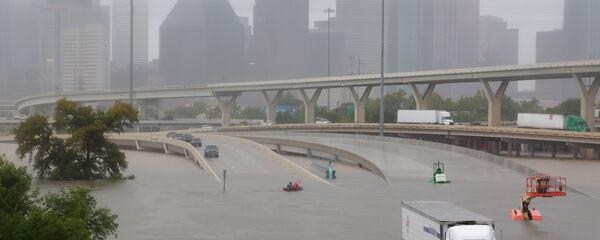 30 August 2017, 19:06 GMT
According to the company's disaster possibility scenarios, the worst-possible outcome would result in major damage to everything within a 1.5-mile radius of the plant. An evacuation order has been put in place for this area, the company said, noting that the relevant public authorities have been made aware of the looming crisis. 
While Arkema does not believe the explosion will be worse than the 2013 explosion of ammonium nitrate at the the West Fertilizer Company's distribution facility, which killed 15 and injured 160, a University of Houston chemical safety expert disagrees, the Houston Chronicle's Matt Dempsey reports.