WASHINGTON (Sputnik) — Floods generated by the hurricane forced the shutdown of oil refineries along the Texas Gulf Coast on Wednesday, including the Saudi-owned Motiva refinery in Port Arthur, the largest in the United States.
GAS PRICE SPIKE
Roughly 25 percent or one quarter of all oil refining capacity across the United States was shut down, at least temporarily in the wake of the hurricane.
"The wholesale [US gasoline price] has risen about 11 percent from two weeks earlier when we suspect the market began to price the impact of the then expected Hurricane into price of gasoline," Ball State University Professor of Economics Cecil Bohanon told Sputnik on Wednesday.
The price rise reflected the concentration of so much of the US oil refining industry in the state of Texas where it was hit hard by the record-setting hurricane, Bohanon explained.
"This is not surprising as about 20 percent of the US refining capacity has been knocked out by Harvey," he said.
Bohanon also cautioned that prices could stay high for an indefinite period of time depending on much of the gasoline supplies at the Texas refineries had been rendered unusable by the record floods and rain.
"How long will the price spike continue? It depends… how much water got into the supply of gasoline. As motorists have known for generations, water in gas tank makes petrol unusable: So it will depend how long it takes refiners to fix their facilities and make fresh uncontaminated gasoline," he said.
However, US national crude oil prices have been remarkably stable in the wake of Hurricane Harvey, Bohanon added.
"The price of West Texas Crude is actually slightly lower today than it was two weeks ago. Gasoline, however, is a different story," he said.
VULNERABLE SEASON FOR REFINERIES
Retired Brown University Assistant Professor of Economics Professor Barry Friedman observed that Hurricane Harvey had hit Texas and its concentration of oil refineries at a time of the year when gasoline stocks were usually run down anyway, adding to the pressure on boosting prices.
"Refiners do tend to reduce operations in the fall for maintenance and to switch to increase production of heating oil rather than gasoline," he pointed out.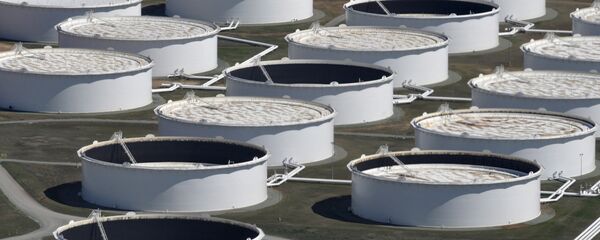 30 August 2017, 21:19 GMT
Because of this annual seasonal pattern, Texas refineries had to slow down both their rate of accepting crude oil and the scale of their gasoline output, Friedman noted.
"The port facilities at Galveston up the channel toward Houston are impaired and tanker trucks are bottlenecked, so imports and exports are reduced," he said.
The full scale of the damage inflicted by the hurricane had yet to be assessed, Friedman acknowledged.
"Refiners have had to close many operations. How temporary, we don't know yet. The crack spread (price of refined products minus cost of crude) has increased… This is the season when gasoline stocks are being drawn down anyway," he continued.
In the coming weeks, crude oil imports could be increased on the US East Cast to try to counteract the shortfall in refined gasoline output b resulting from the hurricane, Friedman suggested.
"Imports of crude oil can come in on the Atlantic coast and be shipped around from there. But the refining capacity is not as large in the East," he said.
Both production and distribution of crude oil was largely unaffected by the damage inflicted by the hurricane, Friedman remarked.
"Storms do nothing to damage pipeline networks distributing products all over the country to refineries and from refiners to customers. Also, the pumping of oil and NG [natural gas] to 'inject' into pipelines from anywhere outside of Texas can be increased," he added.
The overall supply of crude oil remained plentiful and the national distribution system remained intact and robust, Friedman commented.
"Note that futures prices of crude have not increased… Alaska oil always comes down to California for refining anyway, unless shipped abroad," he said.
Nevertheless, the US oil industry continued to suffer from bottlenecks caused by insufficient overall refining capacity, Friedman observed.
"Plenty of oil can flow from North Dakota and other internal regions and Canada, but refining capacity is not much in the interior," he said.
At least major 15 refineries were reported going off line across Texas on Wednesday from Corpus Cristi to Port Arthur, Texas, the Department of Energy announced.