TEL AVIV (Sputnik) — Israeli authorities decided to suspend the implementation of the decision aimed at withdrawing the accreditation of Elias Karam, an Al Jazeera correspondent, from the country, the Israeli government's press service said in a statement Wednesday.
"Based on the results of the hearings that were held on August 21 and on the audit carried out by the Israeli security forces, Israel's Government Press Organization manager Nitzan Hen decided to suspend the implementation of his decision to revoke the press pass belonging to Elias Karam, the Al Jazeera correspondent in Israel," the statement said.
According to the Israeli government's press service, Karam indicated that he did not belong to the "resistance movement" and did not approve of its violent forms. The withdrawal of Karam's press pass was postponed for six months during which Israel's government will monitor the journalistic activities of Karam.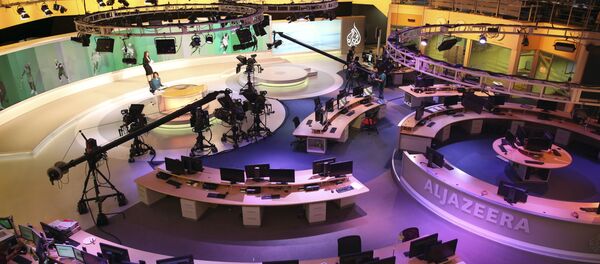 The press service pointed out that the decision to revoke the journalist's press pass followed the statement by the latter in which he declared himself Palestinian, saying that "the work in mass media is an indispensable aspect of resistance for a Palestinian journalist in occupied territories."
The tensions between the Qatari news outlet and Israel escalated since the end of July as Israeli Prime Minister Benjamin Netanyahu announced his plans to create legislation that would shut down Al Jazeera's Israeli office over the broadcaster's coverage of the dispute over Israel's restrictions of access to the Muslim holy site on Jerusalem's Temple Mount. 
Apart from criticism from Israel, Al Jazeera has been accused by Saudi Arabia, the United Arab Emirates, Egypt and Bahrain of supporting terrorism in the region.