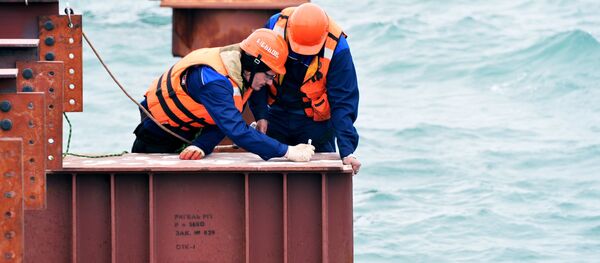 30 August 2017, 08:55 GMT
MOSCOW (Sputnik) — The decree amends the rules for granting subsidies from the federal budget to Russian state corporation Rostec for the construction of power plants in Crimea. As stated in the published document, the new planned commissioning dates of the first two units at Sevastopol TPP and Simferopol TPP with a capacity of 235 MW each are May 19, 2018 and of similar two second units June 18, 2018.
Russia's Technopromexport, a subsidiary of Rostec, is building two thermal power plants with a capacity of 470 MW each in Crimea. According to the previous schedule, approved by the Russian government, the first stage was planned to be put into operation by September 1, 2017 and the second one in March 2018. However, later Russian Energy Minister Alexander Novak said that the first blocks of the TPPs will be launched in the first quarter of 2018.
In July, German tech giant Siemens learned that its four gas turbines provided for a project in southern Russia's Taman had been allegedly moved to Crimea, where Russia was building two thermal plants. Following the incident, the company decided to annul a power plant supply license agreement and suspend power equipment deliveries to Russian state firms. On August 4, the European Union added three Russian nationals and three companies involved in the turbines scandal to the sanctions list, saying that their actions "undermined Ukraine's territorial integrity, sovereignty and independence."
Commenting on the issue, Technopromexport said it purchased turbines for Crimean power plants in the secondary market, with Russian engineering companies modernizing them.