MOSCOW (Sputnik) – Russia left the Council's parliamentary arm in 2015 after PACE stripped its delegation of key voting rights over Crimea's reunification with Russia. Russian Foreign Minister Sergey Lavrov informed the Council's chief, Thorbjorn Jagland, in June that Russia would not pay into its budget this year until full rights were restored.
"The internal crisis in the PACE is fraught with metastases which can appear in other bodies of the Council of Europe. It hampers their normal functioning," Ivan Soltanovsky told RIA Novosti.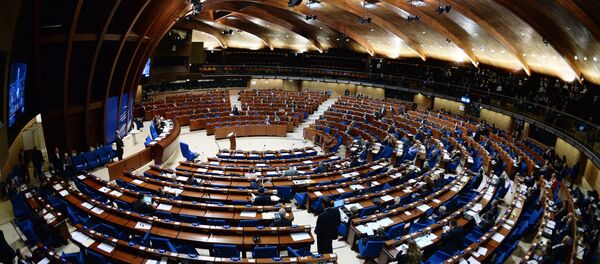 The ambassador said that an "unfortunate impasse" and "an acute crisis" in the Strasbourg-based assembly negatively affected the climate in the Council and Russia's work in it.
"A Russophobe and very active minority in this consultative body has managed to dictate its will and maintain discriminatory measures which contradict the basic parliamentarian principles against Russian deputies," he said in the interview.
He stressed that the Council's work was not limited to the PACE, which "enjoys excessive attention due to its scandals." Russia has been working constructively within its Committee of Ministers and the Congress of Local and Regional Authorities.
The ambassador said Russia was not going to isolate itself from the Council of Europe, but added it would not tolerate blatant violations of its rights and counted on a dialogue with positively predisposed parties who genuinely want to find a way out of the crisis.
Russia's ties with the Council of Europe have been soured by a small but fierce group of Russophobes inside the Strasbourg-based organization, Russian ambassador said.
"Our relations with the oldest pan-European organization are in dire straits. Unfortunately, the Council of Europe has become more and more vulnerable to the influence of opportunistic, narrow-minded and distinctly Russophobe forces," Soltanovsky told RIA Novosti.
He added the situation was not as "black-and-white" as it seemed. Russia has benefited from "fruitful, mutually beneficial intergovernmental cooperation," including last year's signing of 60 protocols on issues ranging from counterterrorism to the fight against doping.
Tensions between Russia and the Council rose in June after Russian Foreign Minister Sergey Lavrov told Secretary General Thorbjorn Jagland that Russia – one of the biggest contributors – would withhold a part of its payment for 2017 until the Council's Parliamentary Assembly restored all powers of the Russian delegation. Moscow stressed it remained committed to other obligations under the Council's conventions.