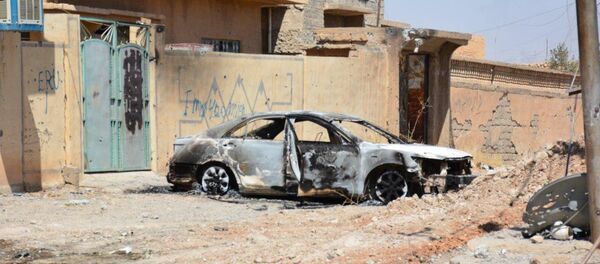 31 August 2017, 12:37 GMT
TAL AFAR (Iraq) (Sputnik) — Earlier in the day, Iraqi Prime Minister Haider Abadi announced the liberation of the city and the province of Nineveh from Daesh terrorist group, outlawed in many countries in the world, including Russia.
The Iraqi fighters are looking for their homes amid the ruins of the city of Tal Afar, where one slip-up could result in an explosion of a bomb left by the terrorists, but despite the surrounding debris, the local residents cannot suppress the tears of happiness.
RETURN VICTORIOUS
The residents of Tal Afar joined the Iraqi government forces to free their city and take back their property. They put on uniforms and bought arms and ammunition with whatever remained of their savings.
Although the shots have ceased, it is still not safe to walk around Tal Afar. The operation to clean up the debris and defuse the explosive devices left by terrorists has just begun. The walls are covered with inscriptions warning that the building might explode. The roads are not safe either.
Terrorists marked many houses as "Islamic State property," but now local residents are reclaiming what was theirs.
"The militants have thrown us out of our homes against our will, we could not stand up to them. Today we have liberated our city and we are happy because of it. God willing, the residents of Tal Afar and our people will return to their homes in the near future, safe and sound" Abu Javad, the head of Ammar bin Yasir regiment, said.
Javad said it was impossible to describe the feeling that one experiences when returning home victorious after having been thrown out three years ago.
Terrorists used the house of Javad as a school and reception house for foreign fighters.
The commander added that the fatwa issued by Ayatollah Sistani against Daesh in 2014 played an important part in the liberation.
LIKE WEDDING
Ali Faik Ali, the deputy commander of Hussein brigade, said he was very happy to return to Tal Afar even though he found his house burnt to the ground by terrorists.
"We were the first to storm the city, and our regiment was the first to make it to the center of the city. We were incredibly happy, it felt like heading to a wedding, not into a fight," Ali said.
The fighter said that Daesh terrorists took everything they could from his home and burned it.
"Still, I am happy to return, tomorrow I will go there again. We will definitely come back, even if in tents. Our will and determination are strong, and we will not leave our land," the fighter added.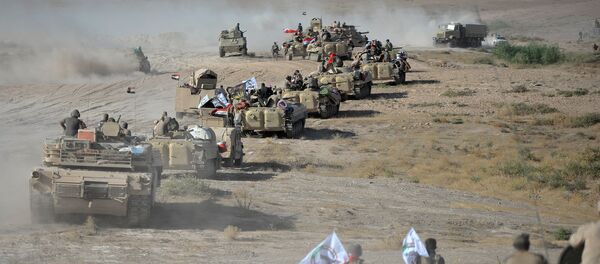 30 August 2017, 18:08 GMT
The day of the forced escape from Tal Afar was tragic, according to Ali, people were leaving with their morale very low, but the fighting spirit had since returned.
The fighter said that his two sons fought in Popular Mobilization Forces.
"No settler stayed at home if they could carry weapons. We all signed up to free Iraq. I don't know how many of us there were, but we make up a whole brigade," Ali said.
TEARS OF HAPPINESS
Another fighter from the same brigade, Hasan Husein Ali, found a watermelon to celebrate the liberation of Tal Afar. He is sharing half of it with other fighters.
"Don't film this so they can't say al Hashd [Popular Mobilization Units] are poor," Ali told reporters jokingly.
The fighter said he finally returned to his home after three years away.
"Our home is across the street, I went to look at it… It was painful, but God willing, we will rebuild it to make it better than it was," Ali said.
According to the fighter, terrorists used his house as a hospital.
"We were, each of us, overcome with tears of happiness when we returned to our homes and could not hold in our victorious smiles, this is good news for all of Iraq, especially for our Turkmen people," Ali said.
Ali and his family left Tal Afar in June 2014 after the city was besieged by Daesh terrorists and he does not want to remember those days.
"They laid siege to us… and we could not protect our home with our simple weapons. We ran through the south of Tal Afar to the regions that were not controlled by Daesh," he said.
Ali and two of his brothers joined the PMF after Sistani's fatwa. Ali went to Tal Afar to return their land and their home, while his brothers fought in Mosul.
The campaign to liberate Mosul began in the fall of 2016. In July, the Iraqi authorities said that the terrorists were cleared from the city.
The People's Mobilization Forces were formed following the fatwa of Sistani, the call to fight against Daesh. The organization united existing militias and attracted new members.