MOSCOW (Sputnik) — Poklonskaya denied she would run for president after numerous reports on Friday citing sources in the president's administration alleged that up to seven female candidates could take part in Russia's upcoming presidential run.
Another source told the Izvestia newspaper that Russian TV host Ksenia Sobchak, the daughter of late First Mayor of St. Petersburg Anatoly Sobchak, would be an ideal candidate, while political scientist Konstantin Kalachev named Poklonskaya and Russia's upper house Elena Mizulina as the most prospective candidates.
According to the Dozhd broadcaster, Poklonskaya called Kalachev's claims "nonsense" and added that she was not aware of "what [Vedomosti] is writing."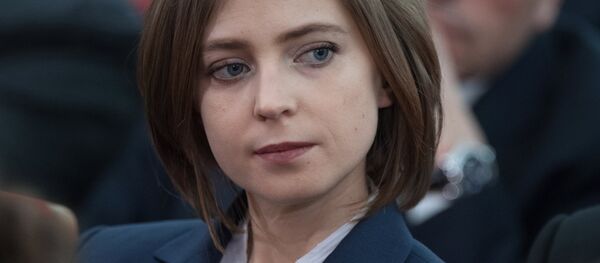 Pokonskaya, the former Ukrainian Ministry of Internal Affairs investigator, became popular during the events which followed the Maidan coup in Ukraine in 2014. After the coup she returned from Kiev to Crimea and was appointed acting prosecutor of the Crimean Autonomous Republic, gaining international recognition as the peninsula's chief prosecutor. In 2016, she took part in legislative elections, and became a member of Russia's parliament, the Duma.
The Russian presidential election is scheduled to take place in March 2018. The Kremlin has not provided any comment yet on whether Putin will run for another term. The latest polls of the Public Opinion Foundation research agency showed that 65 percent of Russian citizens would vote for Putin.