Oleg Faustov of the TsNIITOCHMASH research center in the Moscow Region said that "in a combined-arms configuration, the Ratnik's body armor protects a soldier's chest and back from bullets with a steel core fired at a range of 10 meters from a 7.62mm SVD rifle."
"In the assault kit's configuration, the Ratnik's bulletproof vest protects a serviceman's chest, back and groin from armor-piercing incendiary bullets fired at a range of 10 meters from a 7.62mm SVD rifle — chest, back, sides and inguinal region," he added.
Earlier, TsNIITOCHMASH head Dmitry Semizorov told journalists that the Ratnik combat gear had successfully been tested in Syria; none of its protective elements were damaged.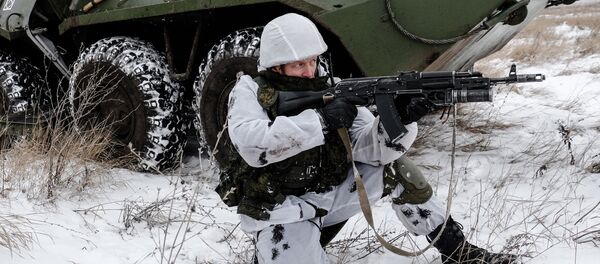 6 February 2017, 13:47 GMT
The mass delivery of the second-generation Ratnik gear to the Russian Armed Forces started earlier this year. The Ratnik kit includes a total of ten different advanced subsystems related to small arms and protection, as well as reconnaissance and communication equipment.
The kit is designed to operate in different climatic conditions and at any time of the day.
Right now, research work on the development of the third-generation Ratnik kit is under way. The new gear will include a helmet with an integrated control system, a combat exoskeleton, mine-proof footwear and other sophisticated elements.