MECCA (Sputnik) — At least 39 people have died since the beginning of this year's Hajj, the annual Muslim pilgrimage to Mecca in Saudi Arabia, local media reported Saturday.
Most of the victims, a total of 16, came to Mecca from Egypt and Algeria, the Okaz newspaper reported, citing the Saudi General Authority for Statistics. All of the deceased pilgrims were elderly people, who died of "natural causes, due to exacerbation of chronic diseases."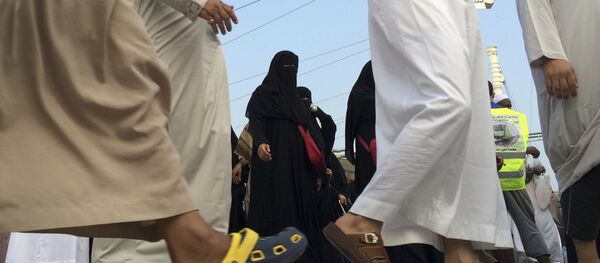 21 August 2017, 10:24 GMT
According to the news outlet, the Saudi Healthcare Ministry urged Muslims to refrain from performing Hajj if they suffer from chronic disorders.
The hospital of the valley of Mina, which accommodates thousands of pilgrims during the Hajj, informed the outlet, that over 2,200 people visited the hospital seeking medical assistance. In most cases, the patients complained about getting sunstroke, or suffered from cardiac diseases or diabetes. The hospital also reportedly admitted a number of small children who could not manage the physical toll of the pilgrimage amid record-breaking heat.
Several mobile clinics are functioning at the Hajj site, ready to provide medical aid to the pilgrims if needed, the news outlet added.
Hajj is one of the five pillars of Islam and each Muslim is required to undertake the pilgrimage to Mecca's holy places at least once in a life time. Annually, the remarkable religious event brings together millions of Muslims. This year's Hajj takes place between August 30 to September 4.