The image snapped by the intrepid Greek photographer depicts an infant sitting in a cardboard box, gazing curiously at the people towering above him.
As Pantelia explained during her interview with Sputnik, she took this picture in an "unofficial" migrant camp on the border between Greece and Macedonia "where thousands of people were stuck in limbo waiting to cross the borders."
"While I was walking around the camp the father of the baby just waved at me and pointed to the cardboard box. I didn't understand why he did that at  first but when I approached the box I surprisingly saw a baby with a baby bottle and a few teddy bears. At this time I realized that in my own country, within few months there were children who sleep in cardboard boxes or on the floor. Parents have told me that they sleep in shifts so they can protect the family. It was a really heartbreaking experience. I chose this photo because it shows the hidden victims of this crisis who are the children," she said.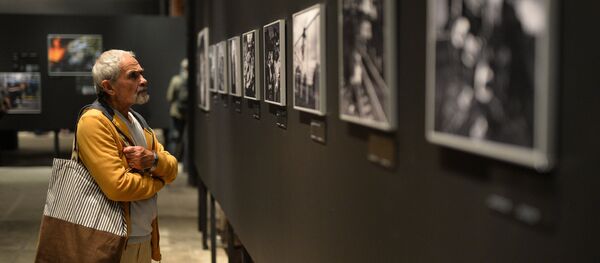 29 August 2017, 08:29 GMT
The photographer said she decided to take part in the contest because she believes it is important, both for the participants like her and to the memory of Andrei Stenin.
"It's important for all of us that there are people who lost their lives while covering important stories in the field. Unfortunately Stenin wasn't the first nor the last but I hope the industry will become more secure and more fair for photographers and journalists," Pantelia said.
She also added that she's excited about the upcoming award ceremony and is eager to meet other winners.
"We are all from different backgrounds and different nationalities but we share the same passion, the passion that Andrei Stenin had too. I am also looking forward to visit Moscow for first time," Pantelia concluded.
The annual Andrei Stenin International Press Photo Contest, founded in 2014 by the Rossiya Segodnya International Information Agency, is a competition for young photojournalists
The goal of the contest, held in memory of the late photojournalist Andrei Stenin who was killed during an editorial assignment in eastern Ukraine, is to support young photographers and to promote the goals of contemporary photojournalism.