LONDON (Sputnik) – The United Kingdom is not planning to carry out "big" payments to the European Union as part of the so-called divorce bill, the country's Secretary of State for Brexit David Davis said Sunday.
Earlier in the day, UK Sunday Times newspaper reported that country's Prime Minister Theresa May would approve a Brexit bill of up to 50 billion pounds ($64.8 billion).
"In the medium to long term we are not going to be paying great big payments," Davis told BBC broadcaster.
The official noted that though the "era of big payments to the European Union is coming to an end" London would still be allocating funds to various areas including the space and nuclear research.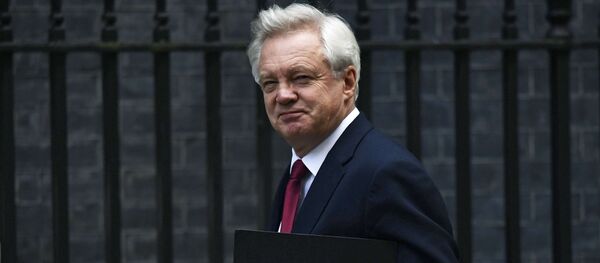 1 September 2017, 22:57 GMT
"We are a country that meets its international obligations but they have to be that. They may not be legal ones, they may be moral or political ones," Davis added.
Davis also expressed disagreement with European Commission's chief Brexit negotiator Michel Barnier who said there had been no "decisive" progress in talks with London at the conclusion of the third round of formal negotiations on Thursday.
"We are basically going through [the talks] very systematically, very British way, very pragmatic way of doing it. And of course [Barnier] is finding it difficult and he wants to put pressure on us which is why this stance is in this week's press conference. Bluntly, I think it looked a bit silly, because there plainly were things that we have achieved … The [European] Commission puts itself in a silly position if it says that nothing has been done," Davis pointed out.
In late March, the United Kingdom officially launched the process of withdrawal from the European Union. The negotiations between London and Brussels, which started on June 19, are expected to conclude by April 2019.