MOSCOW (Sputnik) — The Security Council session is planned to be held at 10:00 a.m. EDT. [14:00 GMT] on September 4, according to the statement.
The document added that the emergency meeting had been arranged at the joint request of the ambassadors to the United Nations from the United States, Japan, France, the United Kingdom, and South Korea.
Earlier in the day, North Korea said that it had successfully tested a hydrogen bomb that could be loaded on an intercontinental ballistic missile. US Treasury Department Chief Steven Mnuchin said that the authority was preparing a new package of sanctions against Pyongyang over its move.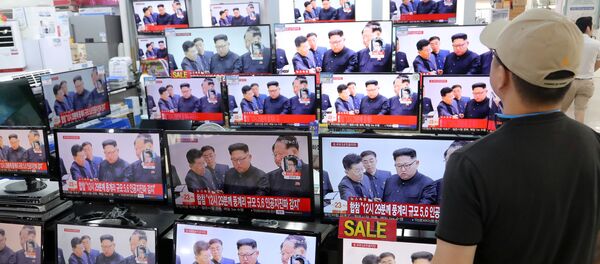 3 September 2017, 18:16 GMT
North Korea's supposed nuclear test had provoked strong condemnation from the international community. EU High Representative for Foreign Affairs and Security Policy Federica Mogherini said that Brussels regarded North Korea's move as a provocation representing a threat to both regional and international security.
Pyongyang's presumed sixth nuclear test since 2006 has been held just days after North Korea launched a ballistic missile over the territory of Japan. North Korea has been carrying out its missile and nuclear tests in violation of the UNSC resolutions.