XIAMEN (Sputnik) — The working group on internal aviation, which was recently set up within BRICS Business Forum, is crucial for the bloc's nations, which are all vast in territory but have a poorly developed transportation system, President of the Russian Chamber of Commerce and Industry (CCI) Sergey Katyrin told Sputnik on Sunday.
On Friday, BRICS Business Forum approved the initiative of Brazil to set up a new working group on internal aviation.
"The work is underway, we have established a working group on internal aviation, as this is a crucial issue for all BRICS nations, all the five countries are large, with a poor transport infrastructure… I think this group is also promising," Katyrin said.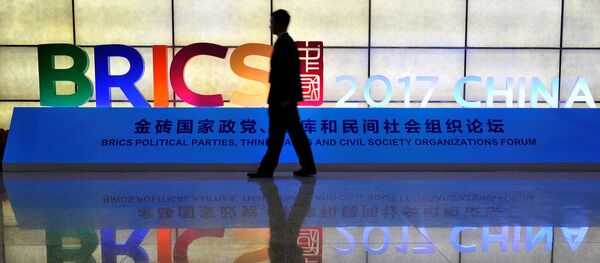 3 September 2017, 19:10 GMT
Russian CCI president added that Russia had a lot to offer to partners within the group, stressing that the country has a great experience in designing and manufacturing short-range
aircraft
.
Katyrin also said that all working groups of BRICS Business Forum worked actively, including those dealing with the issues of transport and communications, electronic trade, human resources and agriculture.
Earlier in the day, Embraer Commercial Aviation company CEO Paulo Cesar told Sputnik on the sidelines of BRICS Business Forum that Brazil was ready to be involved in developing the internal aviation working group, as it was crucial for BRICS nations.
Katyrin chairs the Russian part at the BRICS Business Forum, a major side event of the bloc's summit, scheduled for September 3-5. The Business Forum brings together CEOs and business leaders of BRICS nations, particularly Russia, China, Brazil, South Africa and India.