ANKARA (Sputnik) — The recent criticism of Turkey and its President Recep Tayyip Erdogan by Germany and the European Union demonstrate Europe's "narrowing horizon," Turkish presidential spokesman Ibrahim Kalin said Monday.
"The fact that Germany and Europe are attacking Turkey and Erdogan, disregarding their fundamental and more urgent problems, is a reflection of Europe's narrowing horizon," Kalin wrote on Twitter.
1/Dün akşam Merkel ile Schulz arasındaki seçim tartışması programına Türkiye'nin ve CB'mız Erdoğan'ın damga vurması bir tesadüf değil.

— Ibrahim Kalin (@ikalin1) 4 сентября 2017 г.
​The "anti-Turkey stance in Europe" has become a "tool of relief," as European politicians would rather search for external enemies than address genuine problems, the spokesman added.
"The fact that [German Chancellor Angela] Merkel and [leader of German Social Democratic Party Martin] Schulz never touched on discrimination and increasing racism during the debate shows the point to which German politics has reached," Kalin added, saying he hoped for a change in atmosphere.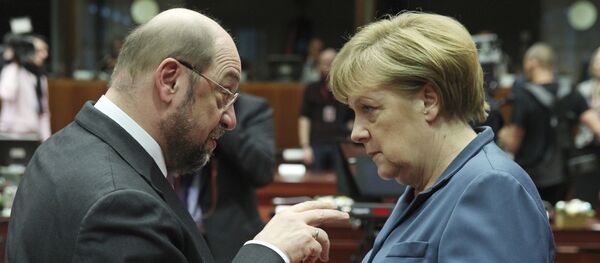 3 September 2017, 20:27 GMT
Relations between Germany and Turkey have witnessed a setback following a failed coup attempt in July 2016. Ankara, in particular, has accused Berlin of providing asylum for the coup plotters. The relations have continued to deteriorate this year, after Germany decided to ban Turkish pre-referendum rallies on its soil and Ankara refused to allow lawmakers from Berlin to visit the Incirlik air base, where German troops are stationed.
On Friday, Merkel expressed Berlin's determination to block further upgrades of the EU-Turkey Customs Union to European Commission President Jean-Claude Juncker amid bilateral tensions between Ankara and Berlin.
On Saturday, German media reported that the German authorities refused to freeze the assets of the supporters of Islamic cleric Fethullah Gulen at Ankara's request.
During TV debates on Sunday, Schulz promised to end EU-Turkey accession talks if he becomes German chancellor.