MOSCOW (Sputnik) — South Korea and the United States are holding consultations to discuss the possible stationing of an aircraft carrier and strategic bombers belonging to the US Armed Forces on South Korean territory, following North Korea's sixth nuclear test, local media reported Monday.
The defense committee of South Korea's National Assembly also announced that Seoul would conduct unilateral military exercise this month in response to North Korea's recent nuclear activity, the Yonhap news agency reported.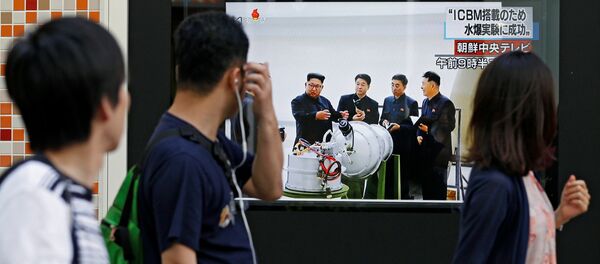 4 September 2017, 07:48 GMT
On Sunday, North Korea announced that it had successfully tested a hydrogen bomb that could be loaded into an intercontinental ballistic missile. According to the Japanese Defense Ministry, the bomb had a yield of up to 70 kilotons.
In response to North Korea's test, the South Korean military carried out a ballistic missile exercise that same day. The security adviser for South Korean President Moon Jae-in said that the country's authorities might consider stationing the most powerful US strategic weapon on its territory following Pyongyang's actions.
On Sunday, Seoul and Washington stated that they were considering military measures against North Korea, while US President Donald Trump reaffirmed United States' readiness to defend the country and its allies with the use of diplomatic, conventional, and even nuclear capabilities.