UNITED NATIONS (Sputnik) — Russia's Permanent Representative to the UN Vasily Nebenzya condemned the North Korean nuclear test, emphasizing, however, that a military solution to the issue is not acceptable.
North Korea's leadership maintaining its current policy undermining the non-proliferation regime threatens serious consequences for Pyongyang itself, Nebenzya said at a UN Security Council meeting on the response to the North Korean nuclear test.
"It is regrettable that the DPRK leadership, by its actions aimed at undermining the global non-proliferation regime, poses a serious threat to peace and security on the Korean peninsula and on a global scale. The continuation of such a policy is fraught with serious consequences for the DPRK itself. At the same time, for us it is obvious that there is no military solution to the problems of the Korean peninsula," Nebenzya said.
The threat of the conflict on the Korean Peninsula becoming "hot" is greater than ever, Nebenzya stressed, adding that "the provocative missile and nuclear activities of Pyongyang have recently acquired dangerous dynamics."
"There is no doubt that we are currently experiencing one of the most acute and dramatic phases of the development of the situation on the Korean Peninsula. It can be said without exaggeration that peace in this region is being seriously tested, and the threat of the escalation of the confrontation into a hot phase is as big as never before," he said.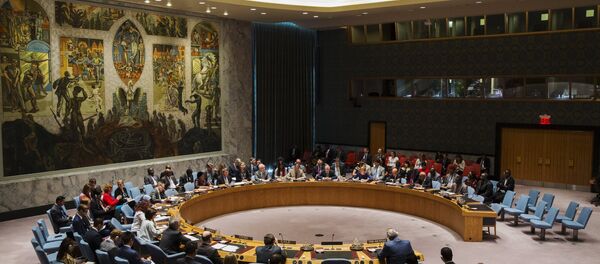 4 September 2017, 14:05 GMT
His statement came following US ambassador's to the UN remarks, saying that North Korean latest nuclear test and missile launches show that Kim Jong Un "
is begging for war
."
The UN meeting on North Korea comes several days following Pyongyang's successful test of a hydrogen bomb that could be loaded on an intercontinental ballistic missile, which had prompted a global condemnation.
As tensions on the Korean Peninsula have further escalated this summer, Russia and China proposed the so-called "double freeze" plan to settle the situation on the Korean Peninsula, urging North Korea to stop nuclear tests, while calling on the US and South Korea to refrain from joint drills. The US has already rejected the peace plan.
Following the North Korean nuclear test on Sunday, Russian President Vladimir Putin and Chinese leader Xi Jinping agreed to "react in a relevant manner" to the move.