MOSCOW (Sputnik) — Japanese Prime Minister Shinzo Abe on Tuesday expressed hope that the joint efforts of Moscow and Tokyo, backed by the international community, could change the aggressive policy of North Korea.
"I hope that joint actions of Russia and Japan, as well as of the whole world community, including a tougher UNSC resolution, can change the current policy of North Korea by exerting the utmost pressure," Abe said in an interview with the Rossiya 1 TV channel host Vladimir Soloviev.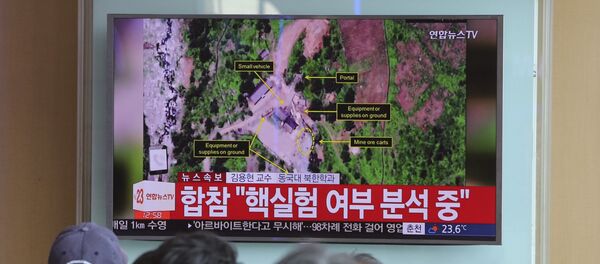 5 September 2017, 19:00 GMT
Abe pointed out that he appeals to Russia for cooperation on North Korea crisis and urges Moscow to take "a decisive initiative in the situation."
The Japanese prime minister also stressed that Russia played an important role in settling the crises in Syria and Ukraine.
"Of course, there are many problems in the world: the Syrian issue in the Middle East, the issue of IS [Islamic State terror group, banned in Russia] terrorism, the North Korean issue. Russia's influence and the initiative of Russian President Vladimir Putin is necessary to address all these issues, including the Ukrainian problem," Abe noted.
On Sunday, Pyongyang announced that it had successfully tested a hydrogen bomb that could be loaded into an intercontinental ballistic missile. On Monday, the UN Security Council held urgent consultations to consider further steps in relation to North Korean activities banned by a number of UNSC resolutions.