NEW DELHI (Sputnik) — India has dispatched the first consignment of diesel to Myanmar ahead of Prime Minister Narendra Modi's two-day official visit to the country. The export, through a land route, is part of India's efforts to enhance hydrocarbon trade with neighboring countries — a tactic mainly aimed at containing Chinese influence in South Asia.
"Symbolizing the growing hydrocarbon engagement between India and Myanmar, the first consignment of 30 MT of high-speed diesel (HSD) was sent today from India to Myanmar by land route. Numaligarh Refinery Ltd. (NRL), which has been supplying HSD to Bangladesh, dispatched the first diesel consignment through NH 37 across the Moreh customs check point on the Indian side and Tamu customs check point on the Myanmar side," India's Ministry of Petroleum & Natural Gas said in a statement.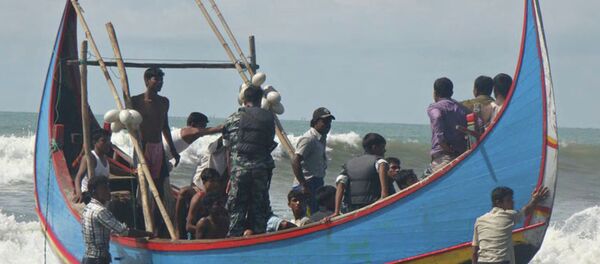 4 September 2017, 18:22 GMT
Myanmar currently relies on imports from Thailand and Singapore to meet the bulk of its consumption of three million tons a year of gasoline and gas oil. It's local output of the two fuel is about 700,000 tons.
Indian refinery NRL, situated 420 km from the India-Myanmar border, is ideally suited to supply diesel to northern Myanmar where connectivity is a challenge, particularly during the rainy season. The firm has signed an agreement with Parami Energy of Myanmar to supply diesel and collaborate on the retail petroleum sector.
Meanwhile, Modi's first visit to Myanmar is being seen with great significance as it comes amid the blistering regional conflict involving the Rohingya, hundreds of whom have fled Myanmar and are living illegally in India. India has recently announced their deportation.
Apart from the Rohingya issue, the prime ministers of the two countries are expected to review the India-Myanmar-Thailand highway project which due to a lack of sufficient funds has been pending for some time. The Indian government recently allocated $241 million for upgrading and widening 65 kilometers of the Imphal-Moreh section of the project. Talks will also delve into expediting the Kaladan transport project connecting Kolkata's seaport with Sittwe seaport in Myanmar. India is under extreme pressure to complete the projects as China is making steady progress in its 'Belt and Road Initiative' connecting countries of the region along a single trade route. According to Chinese official figures, it has invested $18.53 billion in Myanmar since 1988.
"During the visit, we will review developments in our bilateral relations, especially the extensive program of development cooperation and socio-economic assistance that India is undertaking in Myanmar, and explore new areas in which we can work together," Prime Minister Narendra Modi said ahead of his visit.
"We will also look at strengthening our existing cooperation on security and counterterrorism, trade and investment, skill development, infrastructure and energy, and culture," he added.  
India has high stakes in Myanmar as its upstream companies ONGC Videsh Ltd. (OVL), GAIL India Ltd. and Oil India Ltd have assets as well as pipelines in the country.
"In their effort to strengthen the oil and gas engagement, more Indian companies are planning to set up their offices in Myanmar soon," India's Ministry of Petroleum & Natural Gas said.
 Currently, India only has a mere $2.2 billion annual trade turnover with Myanmar and is around the ninth or tenth largest in the country.