Syrian state news agency SANA reported that the three-year siege of the city of Deir ez-Zor has been broken due to the Syrian government forces' operation.
A military source told Sputnik Arabic that the Syrian army with the support of the Russian aviation broke the siege around Deir ez-Zor with the first government tank passing through terrorists' defense lines after terrorist positions had been shelled.
According to the source, the decision to take control of the city was made today. At present, a Syrian flag has been hoisted over the city.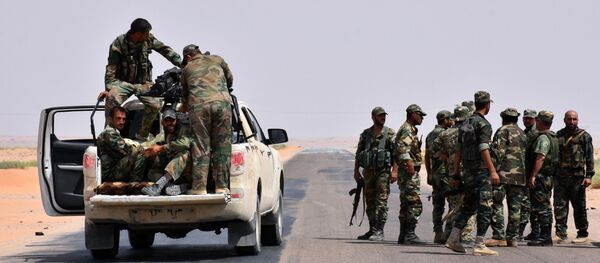 4 September 2017, 17:01 GMT
Deir ez-Zor, located on the shores of the
Euphrates River
to the northeast of Damascus, and a
military
airfield near the city have been besieged by Daesh for over three years, with food and ammunition only being delivered by air, while helicopters from the city of Qamishli have been evacuating the wounded and delivering essential supplies to the city's population.
The Syrian army supported by the Russian Aerospace Forces has been advancing toward Deir ez-Zor from three directions as part of the campaign to free the city launched in August.
The lifting of the siege of Deir ez-Zor will lead to the complete defeat of the most combat-effective formations of the Daesh terrorist group in Syria, the chief of the Russian General Staff's Main Operational Directorate said earlier.
The Russian Defense Ministry announced earlier today that a Black Sea frigate launched strikes with cruise missiles on Daesh targets in Syria from the Mediterranean as part of the operation to free Deir ez-Zor from Daesh terrorists.