VLADIVOSTOK (Sputnik) — The situation on the Korean peninsula is complicated by provocations of North Korea, and if Pyongyang's provocations do not stop, further development of the situation may be unpredictable, South Korean President Moon Jae-in said on Wednesday.
On Tuesday, Japan's Minister of Defense said that North Korea's sixth and most recent nuclear test was more powerful than originally thought, as the blast possessed a yield much larger than the atomic bomb dropped on Hiroshima in 1945.
"Currently, the situation on the Korean peninsula, in Northeast Asia in general, is being complicated by North Korea's lasting provocations. If North Korea does not stop its provocations now, we may face an unpredictable situation ahead," Moon said during a meeting with Russian President Vladimir Putin at the Eastern Economic Forum in Vladivostok.
"I would like to exchange views with you on how we can stop the North Korean provocations and how we can find ways to resolve these issues," the South Korean leader stressed.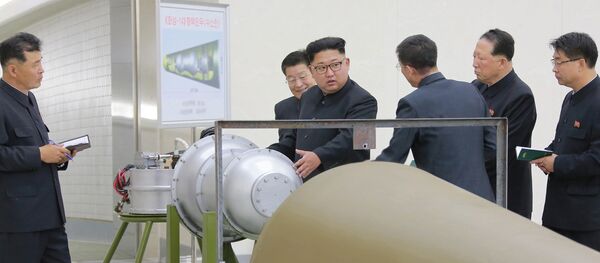 6 September 2017, 07:21 GMT
Washington is calling for stricter sanctions against the North. An emergency meeting was held soon after the detonation between the UN Security Council and the US Ambassador to the United Nations Nikki Haley, with Haley informing the body that the US will soon present new sanctions to be voted on next week.
The South Korean President added that he and Russian leader Vladimir Putin had agreed that it was necessary to reduce tensions on the Korean Peninsula.
"North Korea conducted the sixth nuclear test, and this is the subject of strong condemnation," Moon Jae-in said after a meeting with Putin at the Eastern Economic Forum (EEF).
"We agreed that it is very important to resolve this problem urgently. We and Mr. President came to the common opinion that nuclear and missile tests are the wrong way, and the urgent task is to reduce tensions on the Korean Peninsula," the South Korean leader added.