"We call it 'talking the roof off.' If the mountain collapses and the hole is exposed, it will let out many bad things," Wang Naiyan, a researcher for China's nuclear weapons program, told the SCMP.
While mountains don't usually implode by happenstance, just one more nuclear test could cause the peak at the Punggye-ri nuclear test site to crumble, researchers at the University of Science and Technology of China in Hefei told the Hong Kong-based news outlet.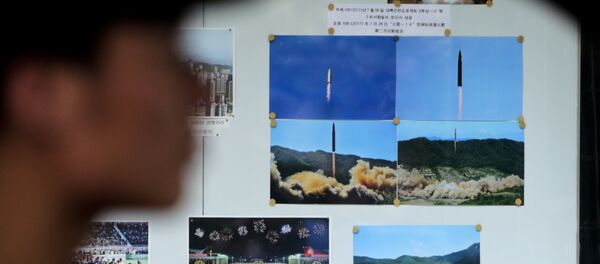 4 September 2017, 14:51 GMT
"The North Korean government should stop the tests as they pose a huge threat not only to North Korea but to other countries, especially China," Wang said.
On Sunday, the DPRK tested what they say is a hydrogen bomb designed for deployment on ballistic missiles. "Sunday's blast was followed by an earthquake eight minutes later, which China's seismic authorities interpreted as a cave-in triggered by the explosion," the Post noted.
While the testing of the hydrogen bomb made waves in news coverage across the world, Sputnik reported back on June 26 that North Korean military scientists had the capability to produce materials needed for such an explosive device, particularly tritium. Stanford University professor Siegfried Hecker said at the time "the evidence is quite clear" Pyongyang had the technical capability for making an H-bomb. Hecker estimates the DPRK has 25 nuclear warheads tucked away in its stockpile.
The size of the explosion is the most significant development resulting from the latest test, Hans Kristensen, director of the Nuclear Information Project at the Federation of American Scientists, told Loud & Clear on Tuesday.
​"The ranges I hear are from 100 to 250 kiloton, depending on who you ask. That's a significant increase from the 10-20 kiloton [explosion] they had in previous tests," Kristensen said.