DEIR EZ-ZOR (Syria), (Sputnik) — The first convoy of 40 trucks with humanitarian aid arrived in Syria's eastern city of Deir ez-Zor after the siege was broken, a Sputnik correspondent reported from the scene on Thursday.
On Tuesday, the Syrian army lifted the three-year-long blockade of Deir ez-Zor. According to Russian Defense Minister Sergei Shoigu, efforts of the Syrian government forces were backed by Russian air and cruise missile strikes.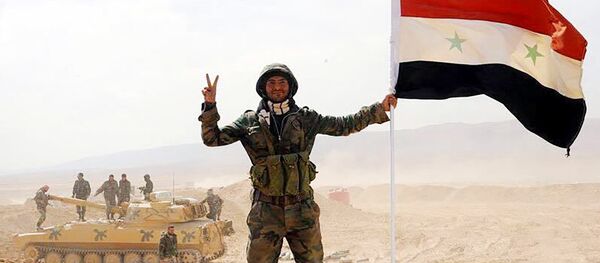 7 September 2017, 04:17 GMT
The convoy delivered food, fuel products, as well as essential medications to the city.
Since July 2014, Deir ez-Zor was under siege by the Daesh terrorist group (banned in Russia). Syrian forces controlled parts of the city, and both them and civilians were supplied with food and ammunition only by air.