Two top French fashion houses LVMH and Kering — whose brands include Christian Dior to Gucci — announced the move ahead of New York Fashion Week, which started on Thursday, September 7, "to ensure the well-being of models."
The pair will now ban their designers from using size 32 models under the French system — size XXS or size zero in the United States, size 4 in Britain.
From now on, they will only employ models who are size 34 — a British size six — or over. Men will also see their measurements increased to at least a size 44, UK size 34, or over, for adult clothes.
Francois-Henri Pinault, chairman of Kering, insisted the firms hoped to "inspire the entire industry to follow suit."
Step in the Right Direction
Critics have warmly welcomed the decision, arguing some models promoted an unhealthy and unrealistic body image that was often copied by other youngsters to their detriment.
Denise Hatton, a founding partner of the Be Real Campaign for Body Confidence, revealed it was a "step in the right direction."
"While some people are naturally slim, the average woman in the UK wears a size 16 and we'd like to see more diversity on our catwalk that truthfully reflects our society, with all its shapes, sizes, ethnicities and more," Ms. Hatton explained.
British eating disorder charity Beat stressed it was wrong to suggest the fashion industry was the main cause of body image problems. However, a spokesman noted that "the ideals presented within the fashion industry can exacerbate and prolong the illness, and we encourage the promotion of healthy body image and ideals in this area."
Legal Measures
In the wake of global disapproval over the use of lightweight models, a new law was introduced in France earlier this year that required them to present a doctor's certificate proving they were healthy to work.
Fashion agencies were warned they would face fines of up to US$90,000 or imprisonment of up to six months if they breached the legislation.
© REUTERS / Charles Platiau
Models present creations by designer Italian designer Donatella Versace as part of her Haute Couture Fall Winter 2015/2016 fashion show in Paris, France, July 5, 2015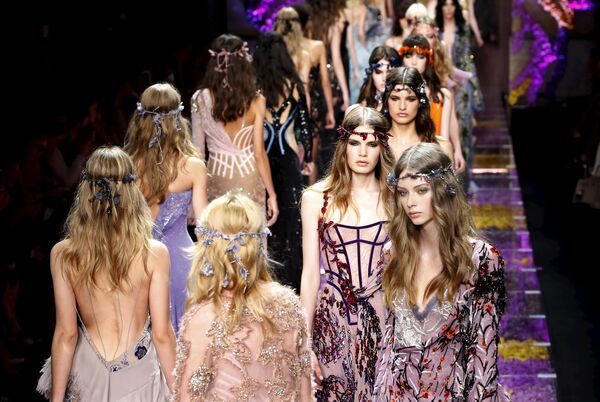 Models present creations by designer Italian designer Donatella Versace as part of her Haute Couture Fall Winter 2015/2016 fashion show in Paris, France, July 5, 2015
The law stipulated, however, the medical certificate could go back two years, but now LVMH and Kering have opted this must be no older than six months.
LVMH director Antoine Arnault stressed he was deeply committed to ensuring the working relationship between the brands, agencies and models went beyond simply complying with the legal requirements.
"As the leader in the luxury sector, we believe it is our role to be at the forefront of this initiative. Many people didn't even know that size 32 existed… that's finished now," he said.
Unattainable Ideals
Previously, the fashion industry has long been accused of promoting "unattainable beauty ideals" which were harmful both to models and those trying to emulate them.
Supermodel Victoire Dauxerre exposed the dangers in a book, admitting the strict regime resulted in her adopting a diet of three apples a day and laxatives.
Danish model Ulrikke Hoyer sparked outrage also when she told how a casting director ordered her to starve herself in the run up to a fashion show.
Last week the winner of Miss UK 2017 gave up her crown after being told to lose weight to compete at international level.
Zoiey Smale, 28, from Nottinghamshire, who is a size 10, has pledged to use her experience to combat body shaming.
"I cannot represent a company that thinks it's OK to body shame women because they don't have the right measurements. I was asked to submit every measurement on my body, which I didn't do. My measurements should be irrelevant," she revealed.
Alexandra Shulman, former editor of British Vogue magazine, insisted "skinny as a rake" was no longer seen by many women as the ideal body type.