WASHINGTON (Sputnik) — Antonov told reporters that a meeting with Trump was constructive and he was received in a warm and friendly manner.
"I told him [Trump] about the importance of improving US-Russia bilateral relations… Russia wants to improve bilateral relations with the United States. We want our relations to be trusting, respectful, equal and mutually beneficial," Antonov told reporters after Trump accepted his diplomatic credentials.
​Antonov said better US-Russian relations remain extremely important for global peace and security.
He also said that he thanked the US president for hospitality.
The Russian envoy also said he will continue contacts with Trump colleagues and his staff.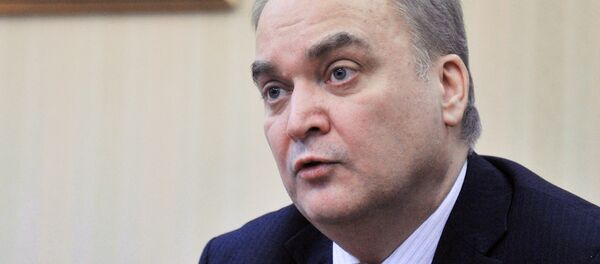 2 September 2017, 11:47 GMT
When asked about the recent remark of the State Department about ending diplomatic "tit-for-tat" between the countries, Antonov expressed hope real steps in this direction would be taken.
"We will see," Antonov said.
Antonov arrived to Washington, DC on August 31 as the US State Department announced its decision to close Russia's Consulate General in San Francisco and two other diplomatic entities in New York City and Washington.
Antonov was appointed Russia's new Ambassador to the United States on August 21. He succeeded Sergey Kislyak, who served in the position from 2008-2017.