Having already caused massive amounts of destruction, deadly Irma is currently pummeling through parts of the Bahamas and Cuba ahead of its scheduled landfall on Florida late Saturday or early Sunday.
​Though Irma has been downgraded from a Category 5 storm, officials are still urging residents in her path to flee, adding that the hurricane will likely make it impossible for rescuers to reach out to residents once it strikes.
"We will do everything we can to get you out, but you have to call now," Florida Governor Rick Scott said during a Friday presser. "If you're in an evacuation zone, we cannot save you in the middle of this storm."
According to forecasts, hurricane-force winds will strike southern Florida and the Keys by Saturday night and will likely linger into early Monday. After finally passing through Florida, the storm will move into Georgia and the Carolinas late Monday.
In southwestern Florida, from Captiva to Cape Sable, the National Hurricane Center is indicating water levels will rise between six to 12 feet; Cape Sable to Jupiter Inlet, including the Florida Keys, will see five to 10 feet; and Venice to Captiva is estimated to get anywhere from three to six feet. Parts of Florida, Cuba and the Bahamas are predicted to see up to 20 inches of rain.
With Irma's winds alone extending outwards 70 miles from its center, the whole of Florida will be impacted: the storm is wider than the state itself. The National Weather Service said areas will be uninhabitable for weeks — even months.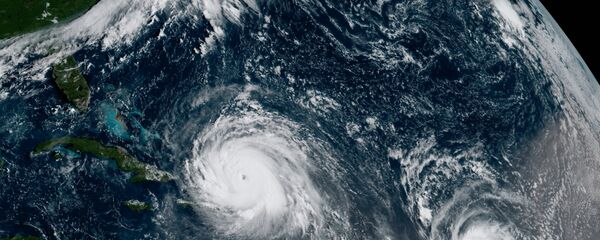 8 September 2017, 14:34 GMT
"Based on what we know now, the majority of Florida will have major hurricane impact and deadly winds. We expect this along the entire east coast and west coast," Scott told reporters. "All Floridians should be prepared to evacuate."
"This storm is powerful and deadly," Scott stressed, saying it was "way bigger than Andrew," the 1992 hurricane that was the most destructive to hit the state. State residents should take it very seriously, he said.
Evacuation orders were set in place for Miami-Dade, Broward, Palm Beach, Brevard, Jacksonville and Duval, and Monroe counties.
Florida residents heeding calls to evacuate ended up on clogged highways Wednesday, Thursday and Friday. The Florida Highway Patrol added extra personnel on Interstates 95 and 75, and the Florida Turnpike to ease traffic caused by fender-benders and disabled cars. Some troopers were also assigned to escort fuel tankers to resupply empty gas stations.
Ahead of the anticipated landfall, the US Navy began to position four of its warships Friday in preparation for rescue and recovery efforts. The USS Iwo Jima, Farragut, New York and Abraham Lincoln have been deployed to Florida with 27 helicopters and an additional 300 sailors and US Marines for backup with the hope of being able to "minimize suffering and protect lives."
​"These ships are capable of providing medical support, maritime civil affairs, maritime security, expeditionary logistic support, medium and heavy lift air support, and bring diverse capability including assessment and security," a Friday US Navy statement read.
At least 20 have already been killed by Irma in the Caribbean, and the damage to many islands is catastrophic. Gold Ray Ewing, minister of infrastructure for the Turks and Caicos Islands, says the damage on the island of Providenciales totals "at least half a billion dollars."
​"It's not a question of if Florida's going to be impacted," Brock Long, FEMA administrator said Friday. "It's a question of how bad Florida is going to be impacted."