This week, hundreds of thousands of people signed an online petition to revoke the Peace Prize of Myanmar's de-facto leader Aung San Suu Kyi over her government's treatment of the Rohingya Muslims.
The change.org petition to take back Aung San Suu Kyi's Nobel Peace Prize has gathered over 380,000 signatures, reflecting a seething outrage over a security sweep by Myanmar forces in Rakhine State following a series of deadly ambushes by Rohingya militants.
"The de-facto ruler of Myanmar Aung San Suu Kyi has done virtually nothing to stop this crime against humanity in her country," the petition said.
Recently, the growing list of voices calling on Aung San Suu Kyi to do more to protect Myanmar's Muslim minority, who they believed to be persecuted, was joined by fellow Nobel Peace Prize laureates Malala Yousafzai and Desmond Tutu.
​While Yousafzai said "the world was waiting for Suu Kyi to act," the 85-year-old anti-Apartheid activist called on his former friend and "dearly beloved sister" to intervene in an open letter.
​Also, the President of the Oslo Centre for Peace and Human Rights and Former Norwegian Prime Minister Kjell Magne Bondevik condemned the violence in Myanmar and called on Suu Kyi to clarify her position and condemn what he referred to as "ethnic persecutions," Norwegian national broadcaster NRK reported.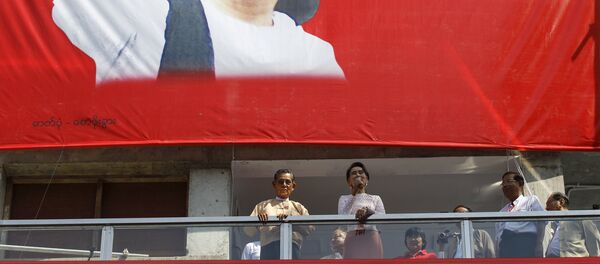 7 September 2017, 17:29 GMT
However, the Norwegian Nobel Committee has resolutely ruled out any such move, emphasizing that Peace Prizes cannot be withdrawn due to the fact that only the work which led to the awarding of the prize is being taken into account.
Olav Njølstad, the head of the Nobel Institute, stressed specifically that it was impossible to strip a Nobel laureate of an award once it has been bestowed.
"Neither Alfred Nobel's will nor the statutes of the Nobel Foundation provide for the possibility that a Nobel Prize — whether for physics, chemistry, medicine, literature or peace — can be revoked," Olav Njølstad was quoted as saying by AFP, suggesting that any subsequent actions were irrelevant.
Suu Kyi was awarded the prize in 1991, while under house arrest at the hands of Myanmar's military junta, wherefrom she was released in 2010. She then went on to steer the National League for Democracy through the country's first internationally recognized elections since independence.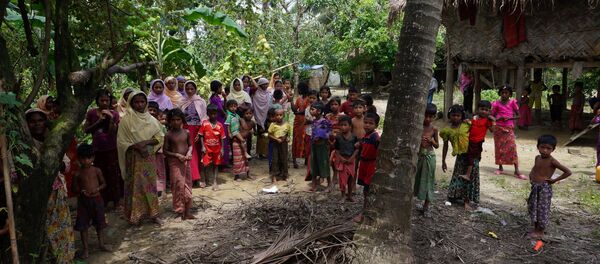 6 September 2017, 09:41 GMT
Recently, Myanmar's government has been facing mounting international condemnation for the army's crackdown on the Rohingyas, which is perceived as disproportionate. According to UN estimates, up to 300,000 Rohingyas could be displaced into Bangladesh due to clearance operations by the Myanmar Armed Forces. Refugees arriving in neighboring Bangladesh relate stories of murder, rape and burned villages at the hands of soldiers. The Myanmar Army, on the other hand, claims to be rooting out terrorists after fighters from the Arakan Rohingya Salvation Army attacked dozens of police posts on 25 August. The conflict has since claimed the lives of at least 402 people.
Earlier this week, Aung San Suu Kyi made her first spoken remarks on the crisis in Rakhine since government crackdowns began last month, lashing out at what she called a "huge iceberg of misinformation with the aim of promoting the interest of terrorists."
The Rohingya people, formerly known as Arakanese Indians, are an Indo-Aryan people living in Rakhine State, Myanmar. The majority of them are Muslim, as opposed to the majority of Myanmar's population, which is Buddhist. Nearly half of the estimated 1 million Rohingyas are believed to have fled to other countries.