BOLSHOY KAMEN (Russia) (Sputnik) – Almost all of the countries in the Asia-Pacific region have shown interest in the Northern Sea Route development, Russian President Vladimir Putin said Friday at the Zvezda shipyard in the country's Far East.
"I want to congratulate you on this great new accomplishment — the laying of four high ice class supply vessels. They will be made [to fulfill the] order of [Russian energy giant] Rosneft and will strengthen the capacity of the company and of the entire domestic fuel and energy sector, will promote the development of the Northern Sea Route, an extremely important project for the whole country… And not just for the country… Almost all countries in the [Asia-Pacific] region are showing interest in it," Putin said.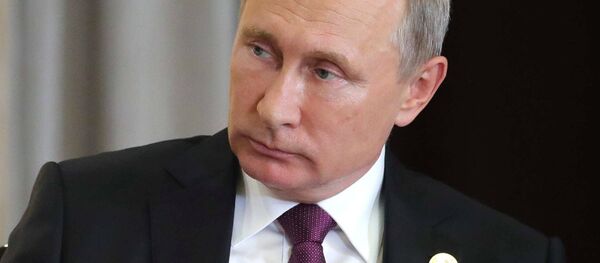 8 September 2017, 04:04 GMT
He expressed confidence that Zvezda could become one of Russia's leading shipyards and among the best in the world.
Earlier in the day, Putin said he would personally monitor the production of tankers and medium-size vessels at the Zvezda shipyard.
The importance of the Arctic region has been increasing over recent years, as the melting of the region's ice cover has opened the possibility for the further exploration of petroleum reserves in the area, as well as for navigation. Russia has been stepping up its military, trade and exploration activities in the Arctic region. It has been building transport and energy production infrastructure, as well as installing military facilities and developing the Northern Sea Route, linking Europe to Asia.