WASHINGTON (Sputnik) — US President Donald Trump called feuding Qatari and Arab leaders to urge them to unite to combat terrorism and the threat from Iran, the White House said in a press release.
Earlier on Friday, the Middle Eastern leaders announced they had decided to try to settle their differences and end a diplomatic rift that began in June.
"Trump spoke separately today with Crown Prince Mohamed bin Salman Al Saud of Saudi Arabia, Crown Prince Mohammed bin Zayed Al Nahyan of the United Arab Emirates, and Amir Tameem bin Hamad Al Thani of Qatar. The President underscored that unity among the United States' Arab partners is essential to promoting regional stability and countering the threat of Iran," the White house said.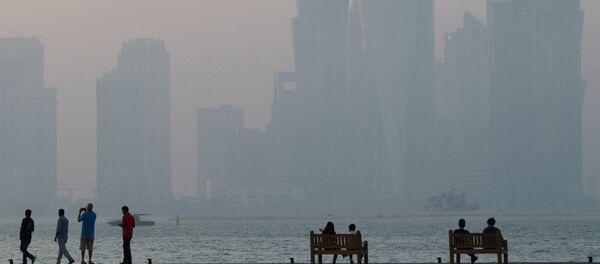 8 September 2017, 22:29 GMT
Trump also emphasized that all countries must follow through on commitments from the Riyadh Summit to cut off funding for terrorist groups and combat extremist ideology, the White house said.
Saudi Arabia and the United Arab Emirates, along with Bahrain and Egypt, severed diplomatic and trade ties with Qatar in June, citing the country's alleged support for terror, warm ties with Iran and interference in their domestic affairs.
The four countries handed Qatar a 13-point ultimatum demanding that Doha scale down relations with Iran, close a Turkish military base and shut its Al Jazeera television channel. Qatar denied the Arab states' allegations and said the demands were unreasonable and a breach of sovereignty.