In the 2014 video, dug up by Mediaite, Clinton is shown telling CNN's Christiane Amanpour that the United States must be just as tough on the children of illegal immigration as it is on their parents.
"We have to send a clear message," Clinton said. "Just because your child gets across the border, that doesn't mean the child gets to stay. So, we don't want to send a message that is contrary to our laws or will encourage more children to make that dangerous journey."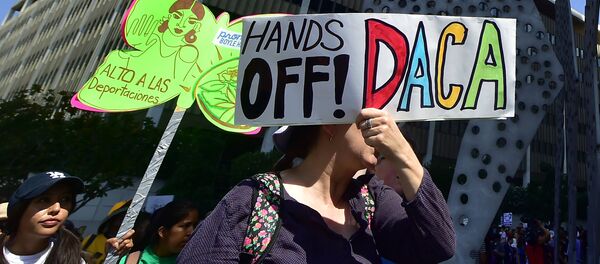 8 September 2017, 18:36 GMT
Asked by Amanpour whether children who have already arrived should be sent back, Clinton answered: "Well, they should be sent back as soon as it can be determined who [the] responsible adults in their families are, because there are concerns whether all of them should be sent back. But I think all of them who can be should be reunited with their families."
That message stands in stark contrast to the one Clinton has been sending her supporters in more recent years. In recent months, the former presidential candidate has come out on the forefront of the campaign to defend an Obama-era program which stops illegal immigrants who came to the US at a young age from being deported. The program faces termination after President Trump gave Congress authorization to find a "real solution" to this issue last week.
Clinton has vigorously defended that program, known as the Deferred Action for Childhood Arrivals (DACA), in every format, including on social media.
While the GOP focuses on villifying immigrants, Hillary will fight to protect DACA/DAPA and pass comprehensive immigration reform.

— Hillary Clinton (@HillaryClinton) 14 октября 2015 г.
No time to waste - we've got to fight with everything we've got to #DefendDACA. Thanks, @jorgeramosnews, for sharing these powerful stories. https://t.co/rNtZZ4ONBy

— Hillary Clinton (@HillaryClinton) 4 сентября 2017 г.
But many social media users, from Trump supporters to disaffected Democrats and independents, just don't buy it. 
Hillary Clinton, 2014: "We have to have border security. Illegal immigrant children don't get to stay."
Hillary Clinton, 2016: Never mind! 😅 pic.twitter.com/tI4Ko5B5s3

— Alex 🇺🇸 (@SoCal4Trump) 9 сентября 2017 г.
Hillary Clinton in 2014. For some reason it wasn't racist when she wanted to send illegal immigrants home pic.twitter.com/p8XYw9uRTG

— JNC (@JnC2487) 9 сентября 2017 г.
#Clinton "build a wall, deport illegal aliens" standing ovation #Dems#Trump "build a wall, deport illegal aliens" howls of protest #Dems
🤔 https://t.co/ykHCzk5s4p

— Military 🇺🇸 First (@Military_First) 9 сентября 2017 г.
Remember when Hillary Clinton said children of illegal immigrants shouldn't stay? Of course you don't, you are all blind.

— Tats Uhalik (@brandon_uhalik) 8 сентября 2017 г.
The video also brought some users to search through Clinton's other old speeches to dig up other instances of a 'tough on illegals' approach which would end up getting flipped as the 2016 campaign heated up.
In 2008, Clinton demanded that undocumented immigrants who commit crimes be deported with "no legal process" https://t.co/oV6pSeEDyB pic.twitter.com/D9rn93aRxD

— Zaid Jilani (@ZaidJilani) 8 сентября 2017 г.
Commenting on Clinton's flipflop, Mediaite reporter Jon Levine asked: "If Mrs. Clinton's position on DACA/DAPA is rooted in her compassion for the children of illegal immigrants, how is that consistent with her position articulated here with regard to the children crossing the border just three years ago?...What happened?"
If not for double standards @HillaryClinton would have no standards at all: What Happened?! Vid on illegal children https://t.co/Ax4javJrRK

— Tony Shaffer (@T_S_P_O_O_K_Y) 8 сентября 2017 г.