PRZEMYSL (Poland) (Sputnik) — Mikheil Saakashvili, the former Georgian president and former governor of Ukraine's Odessa region, was asked to leave a train headed to the Ukrainian capital Kiev via Lviv, a Sputnik correspondent reported on Sunday.
"There is an individual in our train who has no right to enter Ukraine's territory. The train will not move until the individual leaves the train," it was announced in the carriages via loudspeakers in the Polish city of Przemysl.
Before boarding the train, the politician told reporters at the station he was going to return to Ukraine to restore his rights as a Ukrainian citizen.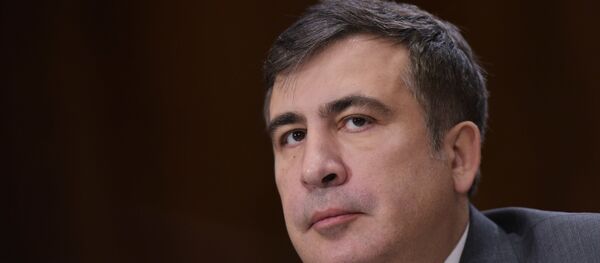 Saakashvili was stripped of his Ukrainian citizenship by President Petro Poroshenko in July on the pretext of violating the country's law. The former Georgian leader was in the United States at the time when Poroshenko made his decision and said he would
file to appeal
the decision of the Ukrainian President in court.
The Ukrainian Border Service said it will not allow the ex-governor to enter Ukraine if he attempts to cross the border. Despite that, Saakashvili vowed to return to the country along with thousands of supporters. 
The former Georgian president was appointed the Odessa Region's governor in May 2015 and stripped of Georgian citizenship upon receiving his Ukrainian passport. He resigned in November 2016, accusing Ukrainian officials of a lack of interest in the fight against corruption.