Earlier Xin Guobin, China's Vice Minister of Industry and Information Technology, announced that the country intends to set a deadline for automakers to end sales of combustion-engine cars. According to the official, this move will be aimed at shifting the focus of the market towards electric cars, and is expected to have a profound impact on the environment in a country with some of the worst urban air pollution in the world.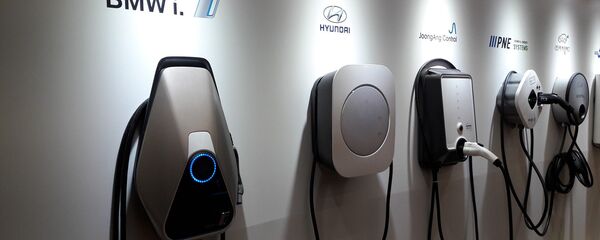 8 September 2017, 13:08 GMT
And as Bloomberg New Energy Finance analyst Nannan Kou told Radio Sputnik, this move will benefit not just the environment but the country's economy as well.
"China will just use less oil and switch to more renewable energy so this will benefit the whole economy and… the health of the people," he said.
Kou also added that this development will likely affect the oil exporters as China would require less fossil fuel. At the same time however, this shift to electric vehicles (EVs) would increase demand for batteries and the components required to manufacture them.
"In the future, with more EVs on the road China will use less oil, so that would impact those oil-exporting companies. On the other hand, when building more EVs you will definitely use more batteries, metals like lithium and cobalt… and the countries who export those minerals will benefit from it," the analyst explained.
Finally, he pointed out that electric vehicles may be more attractive to drivers for reasons other than their relatively low price.
"In the future, because EVs are an ideal platform to apply autonomous driving, the drivers may not even need to manually drive a car. They could do other things while the autonomous car will take them from A to B, so I think that's another benefit to the drivers," Kou said.
Meanwhile, Honda has already announced it will introduce an electric car to Chinese buyers in 2018, according to Honda China COO Yasuhide Mizuno, in cooperation with Chinese business entities Guangqi Honda and Dongfeng Honda, creating a new brand.
Chinese startup automaker Nio also said it will begin selling its ES8 battery-powered SUV as soon as mid-December, according to a company statement.