BEIJING (Sputnik) — Beijing asks all parties involved in the resolution of the crisis on the Korean Peninsula to reconsider its "double freeze" initiative, suggesting that Pyongyang halt its nuclear program in exchange for Washington and Seoul suspending joint military drills, Foreign Ministry Spokesman Geng Shuang said Tuesday.
On Monday, the United Nations Security Council unanimously agreed to boost sanctions against North Korea, introducing ban on the country's textile exports and a cap on crude oil imports, while also forbidding imports of all condensates and natural gas liquids.
"The 'double freeze' initiative proposed by China is an effective and viable option for the resolution of the Korean Peninsula crisis. We are calling on all concerned parties to actively look into this initiative and join efforts with China on promoting the dialogue and consultation to facilitate the process of denuclearization, achieving peace and stability on the peninsula," Geng said.
China put forward a road map for the settlement of the North Korean crisis, based on mutual concessions, in June. The initiative was supported by Russia, but rejected by the United States.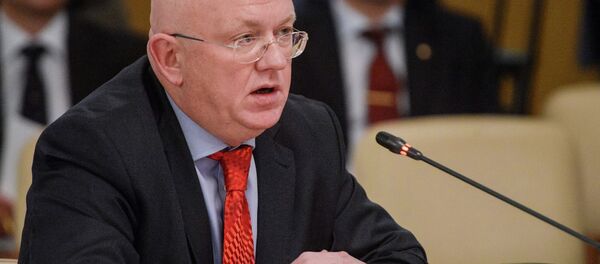 12 September 2017, 00:51 GMT
The Foreign Ministry spokesman said that the United States, South Korea and other sides should avoid any actions that might complicate the situation after the adoption of the latest UNSC resolution. Geng stressed that North Korea had to abide by the UNSC resolutions and stop its nuclear program.
Geng said that the deployment of the US Terminal High Altitude Area Defense (THAAD) system in South Korea "dealt a blow to the trust and cooperation of the sides in the issues of the settlement of the Korean Peninsula crisis."
The Chinese Foreign Ministry spokesman added that the issue should be solved through diplomacy and all sides should adhere to all their commitments and resume the dialogue.
"China will never allow war and chaos to appear on the peninsula," Geng said.
On September 3, North Korea said it had successfully tested a hydrogen bomb that could be mounted on an intercontinental ballistic missile. A week before that, Pyongyang launched a missile, which flew over Japan's territory.
Pyongyang's ongoing nuclear and missile tests have been a source of concern for the states in the region and their allies, as well as for the international community on the whole.